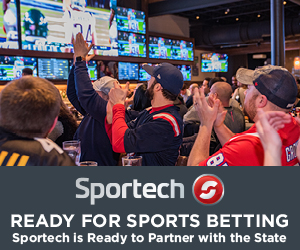 Governor Ned Lamont and Mohegan Tribe Chairman James Gessner Jr. on Tuesday announced a deal granting the tribal nation rights to sports wagering and online gaming with 20 percent of the revenue going to the state and the Connecticut Lottery Corporation taking new retail sports betting venues in Hartford and Bridgeport.
The announced deal does not include, at the moment, the Mashantucket Pequot Nation.
On the surface this deal looks like Sportech, operator of the state's parimutuel facilities, including one in Bridgeport, will be cut out of the online sports wagering platform that could lead to legal repercussions under the federal equal protection clause.
The tribal nations maintain they control exclusive rights to all gaming dating back to a compact approved under Governor Lowell Weicker roughly 30 years ago, something disputed by Sportech officials.
About a year ago Lamont implied he wanted an agreement that included Sportech, but this deal is clearly a reversal showcasing the financial leverage the tribes have over the state.
So this deal, assuming final state approval, could end up in court.
In a news release Lamont cites agreement highlights:
— A 20 percent tax rate on new online gaming, or "iGaming," offerings
— A 13.75 percent tax rate on sports wagering
— Connecticut Lottery shall have the right to operate 15 retail sports betting locations, as well as operate an online sports betting skin
— Connecticut Lottery shall have the right to sub-license some of those locations to the state-licensed pari-mutuel operator
— Connecticut Lottery will undertake new retail sports betting venues in Hartford and Bridgeport
— License agreement to be for ten years with a five-year extension option
"This agreement represents months of hard work and dedication to getting a deal that's best for the residents of Connecticut and moves our state forward when it comes to the future of gaming," Governor Lamont said. We are incredibly fortunate to have such a devoted partner in these efforts like the Mohegan Tribe, as they have been open to negotiation, honest discussion, and a positive path forward that is beneficial for both their tribe and the State of Connecticut."
"The Mohegan Tribe is proud to have reached this agreement with Governor Lamont and the State of Connecticut," Chairman Gessner said. "This path will allow Connecticut to generate tax revenues from sports and online gaming that are competitive with other states, and help keep Connecticut with those states when it comes to growing our economy and benefiting the state budget. We're thankful to Governor Lamont and his team, and we look forward to continued work with the General Assembly as this process continues."