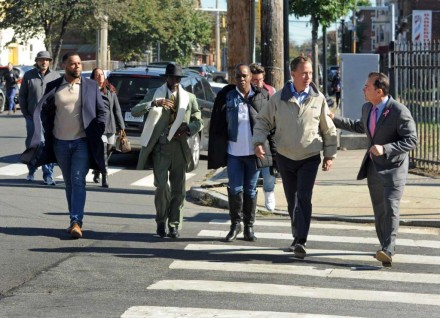 Democratic candidate for governor Ned Lamont, U.S. Senator Chris Murphy and Congressman Jim Himes, all on the November 6 ballot, joined Mayor Joe Ganim on Friday in the East End, a neighborhood rich with Democratic voters.

CT Post reporter Brian Lockhart has more:
"A lot of people expressed some deep concerns regarding how (politicians) don't follow through with promises they make," said Ralph Ford, a prominent black East End Democrat who recently complained that Lamont was ignoring the neighborhood. "We elected Democrats, year after year, and nothing changes."

City Councilwoman Eneida Martinez said afterward that she told Lamont, Murphy and Himes, "It's all good you guys are all here, but when will you be back? Another two years from today (during the next election)?"

Lamont, a Greenwich millionaire and businessman, also campaigned in Bridgeport last weekend, and on Monday. Some political insiders have recently questioned whether the city's voters are enthusiastic enough about Lamont and the upcoming election.

"A governor can make a difference here," Lamont said during Friday morning's walk, after rattling off some of his priorities–economic development, gun control and investing in education and anti-gang youth programs. "I'll be back as governor."
Full story here.