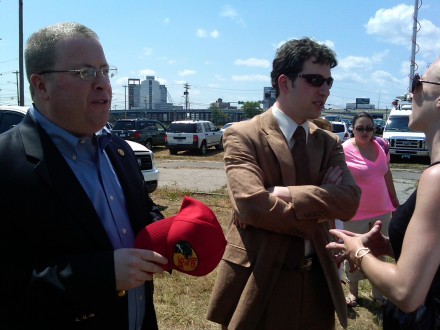 Economic Development Director David Kooris who helped guide construction of the Steel Point redevelopment area of the East Side and shepherded millions in state and federal grants for a new East Side train station and flood control for neighborhoods has issued his resignation letter to the city for a job in state government managing a federally funded project addressing shoreline infrastructure improvements including Bridgeport. Kooris is expected to remain on the city job for another four weeks.

"It was a real pleasure to work with David, he is a talented and bright individual who has accomplished a great deal and brought a lot of investment and creativity into our city," said Mayor Joe Ganim in a statement. "I am sorry to see him go, but David won't be very far away and he will still be heavily involved in the future of Bridgeport in his new role. We all wish him well and in fact we look forward to working with him; I have offered David office space in city hall if it would help him complete his new mission.
"Obviously we are still going through a transition process, and the director of the Office of Planning and Economic Development is a very critical position for our city that we will need to fill with a qualified, visionary person. We will be consulting with our business community and eager to get their input on who will best attract more business and economic development to Bridgeport."
Kooris, well liked in the business community, is considered among former Mayor Bill Finch's top hires. He joined the city in the summer of 2012 just in time for Finch to announce Bass Pro would serve as the anchor tenant for Steel Point. But at that point there was still a lot of work to do to make it happen and Kooris served as a key city bridge between the developer and state and federal funding infrastructure improvements.
Kooris is also credited with securing on behalf of the city a major federal grant to assist with flood control in the South End.
Kooris is among the last holdovers from Finch more than three months into the Ganim administration.