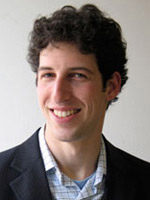 UPDATE: Mayor Bill Finch today appointment David Kooris director of the City's Office of Planning and Economic Development. Kooris replaces Donald Eversley who Finch announced on Monday is departing city service to try to restart the Bridgeport Economic Development Corporation. Kooris is highly regarded among a variety of regional business, planning and development officials, someone they describe as energetic who won't fall asleep on the job. For the past seven years Kooris has held several positions at the Regional Plan Association of New York, New Jersey and Connecticut. He has worked with the Finch administration on a number of development initiatives.

"We're very pleased that David will be joining the City in this critical role," says Finch. "His background in sustainability, land use and transportation planning will be a great asset to the City as we continue to move forward on revitalizing our downtown, and our City to meet 21st century needs."
"I'm incredibly excited to come to Bridgeport at this time of remarkable opportunity," says Kooris. "Bridgeport has the fundamental assets and the high-quality neighborhoods that position it for revitalization during the coming years. I look forward to bringing the skills I have honed working in cities across the Northeast and abroad to the benefit of Fairfield County's greatest urban center."
Nancy Hadley, a downtown resident who served as the city's development director under John Fabrizi, tells OIB "David is a well known positive force for responsible growth. Every developer that has come in contact with him respects his knowledge of planning and development. He has a great reputation. He is a positive presence. He knows the potential for Bridgeport. An entirely positive appointment." Hadley now serves as executive director of the Mutual Housing Association of Southwestern Connecticut.
Kooris joins the city at a time officials say progress is being made at the Steel Point redevelopment area, a decades-long initiative to revitalize the East Side. They hope to announce a major tenant for Steel Point in the coming weeks. The City Council Monday night approved the Steel Point Infrastructure Improvement District that allows the city to move ahead with improvements to the site such as utilities, roads and landscaping.
See Kooris' bio below pulled from the Regional Plan Association website www.rpa.org
David Kooris is a Vice President at Regional Plan Association. With our Connecticut office as his base of operations in Stamford's city center, he manages the Connecticut and Hudson Valley programs. He is also involved in work across the region to better understand the link between built form and climate change. Mr. Kooris currently manages several projects and research initiatives throughout the region that combine his background in urban design and sustainability with his devotion to the public process and climate action.

In Connecticut, RPA's office led by Mr. Kooris coordinates the City of Bridgeport's comprehensive sustainability initiative, BGreen 2020, which is presently involving hundreds of community leaders, business owners, and city staff in a process to balance economic prosperity, environmental quality, and social equity for residents, workers, and visitors. This effort works to implement many of the concepts outlined in the Greater Bridgeport Carbon Emissions Reduction Strategy, a research project conducted by Mr. Kooris to identify land use and transportation policies for a low-carbon future for Bridgeport and the surrounding towns. Lessons learned from this and a comparable effort covering the Hartford region are being scaled up to the state level to clearly articulate the role that development and infrastructure have in meeting our emissions reduction targets. Working with the Town of Fairfield and several other municipalities and neighborhoods with active transit service throughout the state, Mr. Kooris is helping communities identify the appropriate scale and character of transit-oriented developments to meet both local and regional goals.

In the Hudson Valley, Mr. Kooris manages RPA's component of a capacity building program for communities that will have expanded or new transit service following the reconstruction of the Tappan Zee Bridge. This program, Creating Quality Communities Around Transit, is working with Rockland and Westchester Counties and eight individual municipalities to put the policies in place to reduce automobile dependency today while laying the foundation for the transit-oriented communities of the future along the I-287 corridor. Also at the sub-regional scale, he manages RPA's component of the Newburgh Area Transportation and Land Use Study, an effort to coordinate planning around the City of Newburgh and Stewart Airport to encourage economic development while ensuring the preservation of this scenic area and limiting carbon emissions.

Mr. Kooris is just beginning his fifth year at RPA. He received an Honours Bachelor of Arts in Anthropology and Geography from McGill University and a Master in City and Regional Planning and a Master Certificate in Urban Design from PennDesign at the University of Pennsylvania. He lives in Stamford, CT with his wife Jessica and one-month old daughter.