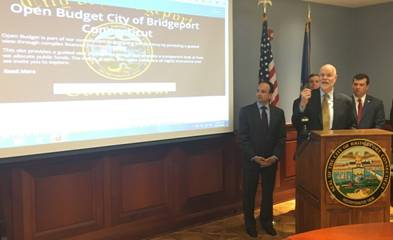 It's your loot and Connecticut Comptroller Kevin Lembo is making it easier to learn how and where it's spent and what state employees are earning. On Tuesday he launched Open Payroll see here that highlights real-time payroll information about state employees as well as a portal of top earners and agency costs.

Lembo, a potential candidate for governor in 2018, was instrumental in the city's launch of Open Bridgeport to search where local dollars are spent, modeled after a state site created by the comptroller's office.
"OpenPayroll is an important addition to the OpenConnecticut portal that builds on my commitment to make Connecticut's government the most open and transparent in the nation," Lembo said in a statement. "In the flush of fake news offerings, OpenConnecticut continues to serve as an online oasis of data and facts where the public can get the most immediate and accurate state financial information."
The financial portal provides compensation data for every state employee, including salaries and overtime pay. Previously, the state payroll data in Connecticut was updated only once annually. OpenPayroll will be updated bi-weekly to reflect the typical state employee pay cycle.
"OpenConnecticut will never be complete–it will always remain a work in progress as we continue to find new ways to expand access to government data," Lembo said. "I look forward to continue growing this site and other initiatives that bring Connecticut residents closer to government."