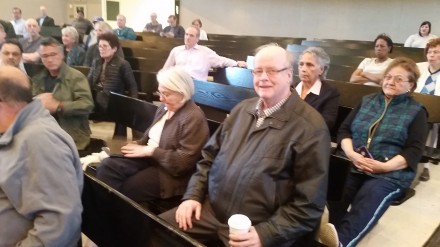 As spring foliage blossoms, so too a number of candidates for City Council. A tandem seriously considering a run would pose a fascinating challenge of incumbents Tom McCarthy and Jeanette Herron in the North End 133rd District. That's if McCarthy, president of the legislative body for 10 years, seeks reelection.

Big Mac, first elected to the council in 2001, says he hasn't made a decision about reelection. He says he's not building a timetable based on what others do.
Former State House member Bob Keeley, that rascally veteran pol, has built an alliance with Anne Pappas Phillips, a long-time member of the city's Zoning Commission as well as a member of the Democratic Town Committee. They are taking a serious look at running with an official declaration possible in a few weeks. Both have been front and center at recent City Council meetings.
If Keeley and Phillips get in they are likely to have plenty of company around the city from insurgents looking to knock off incumbent Democrats in September primaries. Bridgeport has 20 City Council members with two per district.
Democratic Town Chair Mario Testa forecasts a number of primaries for the City Council, school board and city sheriff seats this off-cycle season. Mayor Joe Ganim is not up for reelection until 2019.
Primaries have emerged as a way of life in the city's political arena. In fact many candidates endorsed by the Democratic Town Committee have been knocked off in recent years giving courage to insurgents responding to the electorate's anti-establishment taste. In 2013, all endorsed candidates for City Council and school board were defeated. Since then many other endorsed candidates have been lanced including a rarity for mayor in 2015 when Ganim blistered incumbent Bill Finch in a major party split.
"There's going to be primaries all over the place," says former City Council President Ernie Newton who says he will be a candidate for council in the East End 139th District.
Veteran pols such as Keeley and Newton know all about city primary wars. They've been through plenty of them. But a number of pols say there will be newcomers to the scene as well this cycle.
Stay tuned.