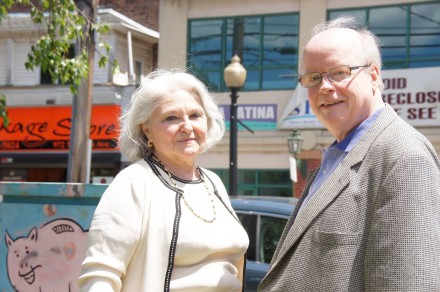 UPDATE: Keeley bails. Former State Rep. Bob Keeley may have thrown his so-called running partner under the bus by "mailing my candidacy in" but Anne Pappas Phillips says she's not quitting on Tuesday's primary for City Council in the North End 133rd District. Talk about cutting and running. Keeley left a voice message for his running mate that he left for the west coast and won't be around for the primary. Whether this is real or a joke by Keeley, known to be a prankster, he hasn't requested an absentee ballot from the Town Clerk's Office.

"I'm not quitting, I am not a quitter," she says. "The question of absentee ballots has to be addressed. This is not the right time to quit."
What about Keeley's comments?
"I have no comment about my running partner," Phillips, a city zoning commissioner, adds. "It's hard to campaign all by yourself."
On Tuesday district Democrats will go to the polls for a third time after Superior Court Judge Barbara Bellis on two occasions invalidated results for absentee ballot irregularities. Keeley and Phillips are challenging party endorsed Michael DeFilippo and Jeanette Herron.
Political operatives in the district confirm that Keeley has mailed it in. In fact, they say Keeley and Phillips haven't talked in a month.
Keeley's acting like a candidate who's resigned himself to a loss under the fallacy he cannot win a fair election. It raises questions about Keeley's veracity for running in the first place. Does he really want to expose "corruption" as he puts it or is he simply a little kid with matches and gasoline in it for a narcissistic boost? Keeley's interest in running for City Council centered on becoming president of the legislative body that would have placed him next in line in case of a mayoral vacancy. That option is no longer available to him.
Challenging the primary results has been financially costly on several levels and time consuming for the court system.
On some level, to those who know Keeley's history, there's a chuckle effect to his drawing back in mock horror over those dastardly politicians. While a state representative Keeley was often accused of living outside the district he represented. In addition (just like Democratic Town Chair Mario Testa he now accuses of absentee ballot abuses) Keeley was among several city pols under federal investigation 15 years ago. Testa and Keeley were not charged during those separate federal probes.
Here's the part Keeley's not sharing. When Keeley was defeated in a 2008 primary by Auden Grogins he was the longest serving legislator in city history having been endorsed many times by the very politicians he now rails against. In fact, in 2008 it was Testa who broke the tie that won Keeley the endorsement.
Since that time Keeley has waged two other races for State House and was shellacked on the machines both times. He's run two races for City Council and last month was on a losing Democratic Town Committee slate. In the past decade he's won on the machines zero times in six races. He's also been a candidate for mayor three times without sniffing a primary win. Is he losing because all those elections were rigged? How about the machine totals he fails to win? Were the machine counts rigged as well? Or is he simply not winning because he fails to put in the work required?
Most people in the district just want this race over with so the two top vote producers can move on to the general election.
Herron, a council incumbent, continues to represent the district while the district drama plays out.
For his part regarding the alleged absentee ballot abuses DeFilippo says "I know Bridgeport has years and years of history … But I'm not part of that history."
To those who argue that Keeley's doing the right thing bringing absentee abuses to light, Phillips, an attorney, quietly behind the scenes helped engineer the legal maneuvering in the case.
So if Keeley wins on Tuesday, he's doing so in spite of himself. Or maybe he'll continue to challenge the results in court until he's awarded a win. Meanwhile, the legal bills mount.