The official release date for former Bridgeport Mayor Joe Ganim, serving out his time under supervision of a halfway house, is Monday, according to www.bop.gov. The official release date for former State Senator Ernie Newton, who's completing his time under home confinement, is Aug. 13. Joe is 50, Ernie 54, both relatively young.
The federal government is not totally out of their lives. Both will serve a few years of supervised release under the authority of U.S. Probation. As long as they follow conditions set forth by probation, they should have no problem carrying on, albeit not the lifestyle they once knew. What will they do?

I don't see an immediate political future for Joe. His focus will be family on the Easton homestead, trying to regain his law license, stay low key and possibly show up here and there in the city with Bridgeport friends. Don't expect him to pound a lectern at a town committee meeting at Testo's Restaurant. If he did that I'm guessing his wife Jennifer might take the lectern to his head. He'll not be a candidate for mayor next year.
Ernie's a different story. He's back with his peeps in the East End and I see him becoming a player right away. What will Ernie do? He's an irrepressible pol. Loves the political action. Like it or not, Ernie's departure created a void, and before that the death of former State Senator Alvin Penn, in the African American community. More than 20 years ago there was Charlie Tisdale and Margaret Morton. Penn and Newton followed as high-profile pols. Next year is the mayoral election. Ernie's gonna be a pain in the ass to someone. Ernie will seek elective office. If not next year, perhaps in 2012 for his former state senate seat now occupied by Ed Gomes. Yes, we'll be hearing from the Moses of his people.
Addressing Rough Waters
OIB friend Denis O'Malley is chairman of the Bridgeport Port Authority. He's one of the good guys in government in a volunteer capacity. He's not happy about the current relationship the ferry company has with the city. He shares this guest column:
Prior to being appointed a Bridgeport Port Authority commissioner, I loved the Port Jefferson Ferry. Even after my BPA appointment in the middle of this lawsuit and the resulting tension, I love the Port Jefferson Ferry. It's a great operation, well-run, accommodating staff and altogether a pleasurable experience. Brian McAllister has done a great job taking a seasonal ferry service with a very limited schedule and rather than get out of the business as his father suggested, building it up to three boats running 365 days a year. Better service for the passenger, more revenue and profit for the company … And that's the way it's supposed to be!

By the way, a significant factor in that growth has been the Water Street Terminal built by the Bridgeport Port Authority. To summarize the statistics that can be accessed at www.portofbridgeport.com, with BPA's much more passenger-friendly terminal and 24-hour security, the entire experience made a magnum leap for the better. Ferry traffic has gone from 585,000 people and 281,000 cars to what will be over 1,000,000 passengers and approximately 500,000 cars and trucks in 2010.

Unfortunately as has been well publicized, the BPA and Port Jefferson Ferry Company are embroiled in a landlord/tenant dispute that has resulted in very expensive litigation. (Because of that litigation, the BPA had to table building a parking garage adjacent to the terminal after spending over $1 million and since then, lost the grant dollars.) Some of the decisions have favored the BPA and some have favored the PJFC. While the tariff was ruled constitutional which is a win for the BPA, the Court decided that the tariff could only fund benefits to the PJFC and its passenger and that places severe financial restraints on the BPA. Prior to the Court decision, the BPA collected approximately $1.4 million a year (This excludes a tariff surcharge enacted to pay legal fees) which helped fund a number of initiatives PJFC collected from passengers for which they received roughly $30,000 a year as a service charge, and remitted to the BPA.

This Court decision actually compounded the situation as the BPA is now fighting a class action lawsuit that in all likelihood will also name the PJFC a defendant as well because they were paid to collect the tariff. In the long run, the class will receive nothing but the law firms will earn significant legal fees. Not happy about this but that's our legal system.

The other main revenue streams of the BPA would be the monthly rent paid by the PJFC. They are going in to the final year of the 10-year lease and are now paying of $12,700 a month, $152,400 a year. Given the improvements to the property, many have suggested that the rent is too low but prior to my appointment, the BPA felt this fair due to the tariff revenue collected from passengers. To put that rent in perspective, Derecktor Shipyards currently pays the BPA $250,000 a year in rent that increases to $275,000 in 2013 with far less traffic and stress on City services.

Because of the severe financial hardship resulting from the Court's decision, one of the BPA's efforts has been trying to settle this case by either selling or entering into a long-term lease with the PJFC. Unfortunately that has gone nowhere even after two days of settlement mediation by Federal Judge Garfinkel. The PJFC's appraisal of the terminal's value is extremely low and we just can't seem to get to a number that works.

The BPA opposed the PJFC moving across the harbor to the Coastline terminal property. We believe that the ferry is a benefit to downtown Bridgeport right now with the Intermodal Center concept. More importantly, as urban development changes and downtown becomes more of a residential/entertainment/commercial environment, the ferry plays a key role contributing to the Downtown Bridgeport experience. This trend is being seen in cities all over the country and it's starting in Bridgeport as well. While there are many frustrated with Bridgeport development and understandably cynical, this trend is happening. The ferry is already a strong component in that growth and can only better Bridgeport even more down the road.

Contrary to earlier news coverage and comments, the BPA, very much wants to get out of this litigation nightmare

As with most commercial disputes, it comes down to dollars & cents. Now there is a much higher value to the Water Street dock because of BPA improvements. We have not come to agreement with the PJFC over that value. To some degree, I think this may well be because of the finances of the City of Bridgeport, the BPA and Coastline Terminals. The PJFC has been in discussion with all and seems to be playing a war of attrition, working to get a price that is not equitable. (Last week's P&Z decision, essentially knocks Coastline out of the picture.)

Both the BPA and the PJFC have made mistakes in all of this. So too has the City of Bridgeport and the State of Connecticut. Rather than agonizing over real or imagined past wrongs, the BPA and the PJFC have to work this out. But the numbers have to work for both parties.

I sincerely wish that we could work this out with PJFC because right now, only the lawyers are making money

Denis O'Malley

Bridgeport Port Authority Chairman
Mr. Barnum Needs Our Help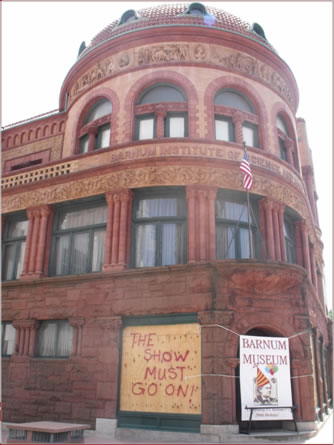 Last month's tornado took a big bite out of the Barnum Museum. From Executive Director Kathy Maher:
It is hard to express how touched we are that so many colleagues, neighbors, and friends have reached out to The Barnum Museum after the tornado hit Bridgeport on June 24th. The devastation throughout the City is truly unbelievable, and miraculously, no one was severely hurt from the rage of the storm.

The people of Bridgeport demonstrated a remarkable benevolent spirit of caring, compassion, resilience, and the City's resolve to persevere and move forward was clearly seen as Bridgeport's services and community members banded together to assist the many affected families, shops and businesses. We witnessed thousands of age-old trees and tons of debris cleaned from the streets of the largest city in the State of Connecticut, and hundreds of people running to the aid of strangers, reaffirming Mr. Barnum's core belief in the 'goodness of human-kind.'

Barnum wrote after the devastation of one of his business enterprises: "The situation was disheartening, but I had energy, experience, health and hope."

It is estimated that well over 800 artifacts will need to be reviewed and hundreds will require conservation. Exhibition rooms require specialized cleaning and carpets must be replaced due to glass embedded in the pile. Teams of conservators, historic architects, environmental and structural engineers have begun assessing the situation to determine the scope of work necessary for immediate action, and the Museum staff and volunteers are envisioning new ways to serve our local, regional and global constituents as we emerge anew.

The Barnum Museum is dedicated to rising to the challenges we are now facing in the aftermath of the tornado as we examine, restore and re-engage the glory of the Museum for all to enjoy. P.T. Barnum never let his public down, and to honor the Great American Showman, we hope you will stand with us as we begin our recovery efforts.

We humbly ask you to please consider making a donation to support The Barnum Museum's recovery.

Your generous contribution will provide us with much needed funds.

The Barnum Museum
Attention: Deb Saviello
Development Office
820 Main Street
Bridgeport, CT 06604
dsaviello@barnum-museum.org

Or make a contribution on line at:
Bridgeport Rocks
BRIDGEPORT THEATRE COMPANY TO PRESENT "OUT TONIGHT: A ROCK MUSICAL BENEFIT CONCERT"

BRIDGEPORT CT, JULY 1, 2010 — Connecticut's favorite musical-theater performers are blending their star power with Broadway's best and brightest to present "Out Tonight: A Rock Musical Benefit Concert," on Saturday July 31, 2010. Bridgeport Theatre Company, a new addition to Fairfield County's entertainment scene, describes itself as being 'for the community, by the community'. They will feature 20+ local performers singing favorite songs from the most popular rock musicals of all-time, including RENT, Hair, The Who's Tommy, Jesus Christ Superstar, Spring Awakening and many more.

The one-night-only concert will feature special appearances from Broadway performers and a live band. All proceeds will help in funding BTC's inaugural 'Season of Love', which opens this fall with Jonathan Larson's Tony Award & Pulitzer Prize-winning musical, RENT. In addition to live entertainment, the evening will also include raffle prizes, a silent auction, local artist display, and the announcement of the full BTC 2010/11 season of shows which will include two musicals and two plays.

The evening will feature over 20 local performers including Elayne Cassara (Weston), Lianne DiFabbio (Stratford), Jim DeVivo (Monroe), Jessica Ferraday (Milford), Molly Garbe (Fairfield), Gina Garcia (Bridgeport), Bryna Kearney (West Haven), Juliette Garrison Koch (Milbrook, NY), Christy McIntosh (Bridgeport), Jenifer Menedis (Darien), Jim Nassef (Fairfield), Eli Newsom (Bridgeport), Jeff Porper (Stamford), Brian Riley (Bridgeport), Kevin Thompson (Stamford), Danny Ward (Stamford), DaRon Lamar Williams (NYC), Melinda Zupaniotis (Norwalk), plus performances by Broadway singer/actors Rashidra Scott (Hair, Avenue Q, and Finian's Rainbow), Ryan Duncan (Shrek, Altar Boyz), Annie Edgerton (Mamma Mia!) and Carter Calvert (It Ain't Nothin' But the Blues). The concert will be directed by Bridgeport resident and professional actress, Christy McIntosh (Evil Dead: The Musical, Elvis and Juliet with Fred Willard, and the upcoming The Girl in the Park).

"Out Tonight" will take place at Playhouse on The Green located at 177 State Street in Downtown Bridgeport. Tickets are priced at $25 for General Admission and $50 for Premium Tickets. Premium ticket holders will also receive an exclusive invitation to a private, pre-show reception at the theatre with complimentary beverages and catered food. Tickets are available online at www.BridgeportTheatre.org or by phone at 800.838.3006.

BTC was founded in May 2010. Their mission is to lead a culturally diverse collective of local artists to provide a quality, accessible, and affordable theatre arts experience for the community, by the community. BTC is incorporated with the State of Connecticut and is a pending 501(c)3 non-profit status organization. Please visit www.BridgeportTheatre.org to make a donation, buy a ticket and … be part of it!