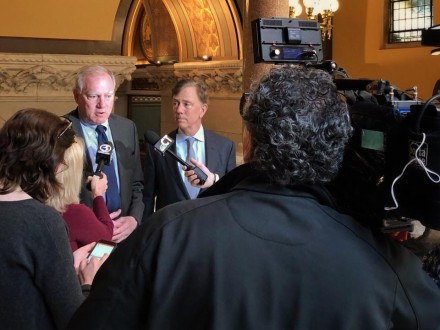 Had Attorney General George Jepsen sought Connecticut's top office he'd likely be the Democratic standard bearer. Eschewing a third term as the state's top civil attorney, Jepsen on Monday endorsed Ned Lamont for governor declaring "Of all the Democratic candidates, Ned is the only one who can win the November general election."

In 2006, running largely an anti-war message, Lamont shocked then U.S. Senator Joe Lieberman in a primary. Lieberman prevailed in the general election on an independent line with heavy Republican support. In 2010, the wealthy Greenwich businessman lost a Democratic primary for governor to Dan Malloy. Lamont once again is self-funding his campaign.
Party endorsements for governor will take place in May. Mayor Joe Ganim, Hartford Mayor Luke Bronin, former state commissioner Jonathan Harris and former Connecticut Secretary of the State Susan Bysiewicz are also eyeing the governor's office in a wide-open field. The Republican side is also wide open.
News release from Lamont campaign:
Attorney General George Jepsen today announced his endorsement of Ned Lamont for Governor of Connecticut. Jepsen says he believes that Connecticut needs a fresh start, and that outsider Ned Lamont is the only candidate for Governor who can win in November and bring real change.

"Today, I am pleased to announce my endorsement of Ned Lamont's candidacy for Governor," said Attorney General George Jepsen. "Of all the Democratic candidates, Ned is the only one who can win the November general election. Ned carries a real understanding of the policy issues facing our state; he is thoughtful, practical, and brings a diversity of public and private sector experience to the table. I know him as a man of integrity who will not shy away from standing for what is right. Finally, and most importantly, at this critical juncture for our state, Ned will not hesitate to make the hard but necessary choices for Connecticut. Ned is the right leader for Connecticut for the next four years, and I urge my fellow Democrats to join me in supporting Ned Lamont for Governor," said Jepsen.

Ned Lamont accepted Jepsen's endorsement saying, "Attorney General Jepsen has served the people of Connecticut with incredible distinction, and I am humbled and honored to receive his support. I want everyone to see Connecticut as a state of opportunity, where there is a fair and growing economy, a sustainable future for all, and the 21st-century infrastructure necessary to retain and attract jobs to our state. I believe in Connecticut, and as Governor, I will work hard to make you believe too."

Ned Lamont is a leading member of the business community who has leveraged his experience in the academic and business worlds to attract new business to Connecticut, most notably Infosys, a tech company that will train 1,000 people a year for high paying tech jobs. For the past decade, Ned has been training the next generation of entrepreneurs as a professor at Central Connecticut State University.

Ned Lamont stormed the Connecticut political scene in 2006 when he stood up in opposition to the War in Iraq; challenging, and beating Joe Lieberman–a sitting United States Senator, and former Vice Presidential nominee–in the Democratic Primary. In 2008, Ned acted as Campaign Chair for Barack Obama in Connecticut where he helped deliver President Obama his only primary win in New England. In 2010, Ned challenged Dan Malloy for the Democratic nomination for Governor. At the time Ned said that if real political courage was not shown, Connecticut would find itself still in the same economic crisis ten years down-the-road.