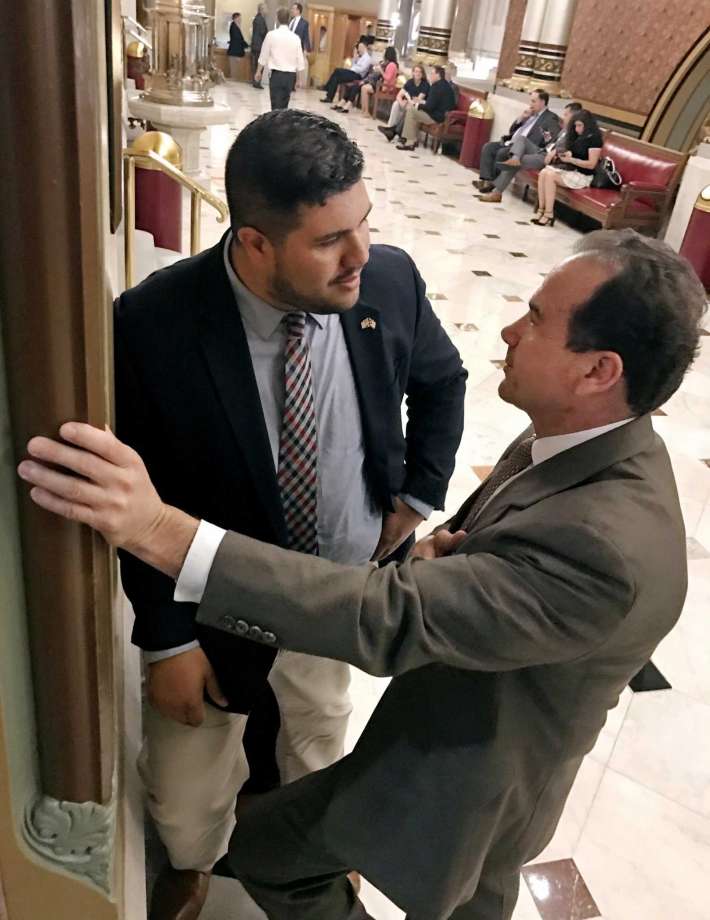 You must marvel at political relationships in Connecticut's largest city. Friends today, fight tomorrow, knife in the back, a salve and make up. It's the Park City's version of Billions. It takes a shrink to sort it all out. Pull up a couch, please.
Last November Kimberly Staley announced her resignation as the city's chief administrative officer to become CEO of Capital Workforce Partners in Hartford. The position has not yet been filled. Assistant CAO John Gomes has picked up the slack in that department until Mayor Joe Ganim fills the position.
Under the city's chain-of-command structure the department heads report to the CAO who reports to the mayor. Ganim wants a person in that role he can trust to balance governmental nuts and bolts with political realities.
In recent days a name has emerged as a possible candidate: State Rep. Chris Rosario who's growing influence in Hartford combined with future mayoral aspirations places him at the intersection of power and politics. Rosario represents the 128th State House District covering the East Side and Hollow neighborhoods with the mightiest bloc of Hispanic voters in the city.
The Ganim-Rosario relationship has undergone the tug-and-pull of Billions. In 2015 they were not buds. Rosario, then blight director for the city, was a loyal disciple of Mayor Bill Finch. Ganim defeated Finch in the September primary on his way to his historic return to the mayoralty. Finch supported petitioning candidate for mayor Mary-Jane Foster in the general election. Rosario remained loyal to Finch.
Ganim won the general election and lo and behold Rosario lost his city job. It's rarely good to bleach a state legislator who has relationships in Hartford. To Ganim's way of thinking hey, he supported Finch and company let him go and we'll make peace if we must. Meanwhile, Rosario took a position with the administration of Shelton Mayor Mark Lauretti.
Since that time the pragmatic part of Ganim has kicked in and he's been reaching out to Rosario on things he needs for the city from the state. Rosario has strong relationships with legislative leadership. Add to the mix Democratic Town Chair Mario Testa's fondness for Rosario and now Ganim and Rosario are doing much much better.
Unclear if Rosario will become CAO or even wants the job but one thing is clear his relationship with Ganim is stronger.
Politically, has this been a missed opportunity for State Senator Marilyn Moore, Ganim's chief opponent? A guy like Rosario is a good political catch.
Remember that Chi-lites song from the early 1970s Have You Seen Her?
Rosario has not seen Moore.