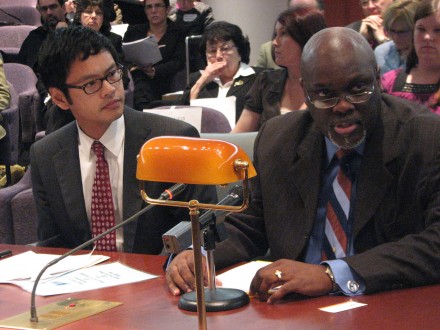 Does Bridgeport lose legislative juice when its inmate-based population is counted in other communities?
State Rep. Charles Stallworth, who won the February special election to replace Chris Caruso in the state legislature, says state prisoners should be counted based on their last community of residence, not the place of their incarceration. Stallworth maintained in testimony before a legislative committee that Connecticut's largest cities lose legislative clout because their populations are reduced as a result of inmate residency counted elsewhere. Rural towns, he argued, are accorded more proportional influence because they can count thousands of inmates among their population. Stallworth made his case as state lawmakers prepare to redraw legislative districts to address the 2010 U.S. Census.

From Stallworth:
REP. STALLWORTH TESTIFIES AGAINST PRISON-BASED GERRYMANDERING

Rep. Charles Stallworth (D-Bridgeport) testified in Hartford before the Legislature's Judiciary Committee today in support of a bill that would change the way prison inmates are counted with respect to their residency. He was joined by Dale E. Ho, Assistant Counsel to the NAACP Legal Defense Fund.

Current law counts Connecticut's prisoners as resident of the facilities in which they are incarcerated. That practice skews the population number and affects the political districting process. The bill seeks to adjust the population data to count incarcerated persons as residents of their last town of residence rather than as residents of the town in which the correctional facility is located.

"Towns in which prison facilities are located get proportionally higher representation rates in the General Assembly because they house inmates from my town," Rep. Stallworth said. "While I understand the perceived burden having a prison has on towns, the costs of returning inmates are borne by our largest cities–-they should be counted where they lived before incarceration."

Maryland, Delaware and New York have recently passed laws that end prison-based residency by counting incarcerated people at home for state and local redistricting purposes.

Stallworth represents the 126th district in Bridgeport; he serves on the Higher Education, Finance and Public Health Committees.