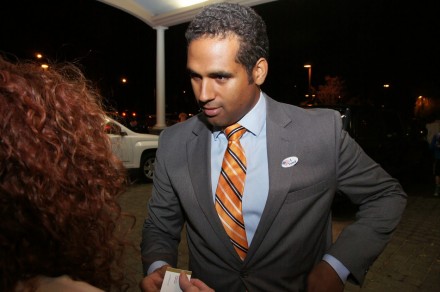 If school board chair Dennis Bradley campaigned for election on the promise he'd boycott meetings, do ya think he'd have been elected? Imagine the campaign message, "Boycott Meetings … Vote Bradley."

The ambitious young lawyer with modelish good looks who won a school board seat in 2015, then lost a 2016 August primary to incumbent State Senator Ed Gomes, has lost his composure, as have a number of politically active, cratering to the insurrection of urban warrior Maria Pereira who has a gifted ability to melt down the sensibilities among those who claim "they're doing it for the kids."
Bradley looks good and sounds good, respectful and earnest at first blush; as some commenters on OIB have pointed out, he even comes across "too put together." But lately he's been more like despotic Dennis than a bridge builder, all because he's allowed Pereira to strip him down to her sometimes caustic level. That is his response to Pereira whom he describes as a bully and obstructionist. Seems like Bradley is taking the bait.
Pereira, one person on a nine-member board, has caused:
— Bradley and other school board members to boycott meetings.
— Acting school chief Fran Rabinowitz to resign in bewildering frustration.
— Parents opposed to Pereira to stage a protest demanding her resignation.
— Chaos in the school district of Connecticut's most populous city.
They have gifted Pereira extraordinary power. Granted, Pereira can be a gigantic toothache; noisy, annoying and brash. But she also does her homework and makes strong arguments on behalf of her education positions such as yes to magnet schools, no to charter schools that operate independent of traditional school districts.
Several weeks ago Bradley said he'd not attend another school board meeting until Pereira resigns. Recently however he reversed himself, choosing to craft special meetings with smaller agendas that allow him stronger control. Education advocates are being whiplashed by a deep split for control of school board policy: the Bradley faction willing its own narrow set of meetings, Pereira and company pushing for full board meetings to move along education business. Bradley even notified four opposition board members they could be arrested for entering school buildings without permission to conduct school business. It caused cerebral board member Howard Gardner to respond to Bradley in an email "You are out of your freaking mind. Have you completely lost it?!"
One silent public voice in this process is Mayor Joe Ganim who's not exactly waving pom poms over Bradley's misplaced strategy, yet has no love for Pereira, choosing to cite state statute to fill appointments if the school board fails to fill a vacancy in 30 days. Pereira is challenging Ganim in court.
The mayor finds it fine to fill school board vacancies but thus far no public pronouncement for Bradley and others to end the boycott. So he's filling school board seats so they can boycott? Oxymoron? In the past few months Ganim has appointed two new members to fill vacancies and could appoint another with the recent resignation of Republican Kevin McSpirit.
Bradley and Pereira ran with and supported Ganim during his comeback victory last year. It did not take long for Pereira to have a falling-out with Ganim and Bradley.
If there is a long-term method to Bradley's madness, it's unclear. For instance, create chaos for a state takeover of schools? City Hall insiders and close advisers to Governor Dan Malloy say there's no appetite for a state takeover, following the surreptitious 2011 upheaval overturned by the Connecticut Supreme Court.
Even if the state decided to step in -on what basis is unclear–is there any doubt Pereira will march into court?
Yes. Bradley, Rabinowitz and others have allowed it to become all this because of one person.