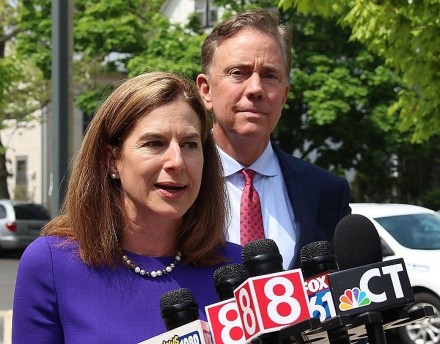 In selecting Susan Bysiewicz as his running mate, Ned Lamont takes out of the equation a key competitor to ease the dollar flow of his self-funded campaign, but looking down the road to the general election an uninspiring ticket whose combo was lanced heavily in cities the last time they each ran in Democratic primaries, Lamont for governor in 2010 and Bysiewicz for U.S. Senate in 2012. What was heading for a weekend coronation for Lamont at the Democratic convention has transformed into a divisive toothache raising questions about his commitment to racial diversity among a key coalition of voters. Meanwhile Mayor Joe Ganim, who loves political chaos, has what he wants … chaos.

In Bysiewicz, Lamont has chosen an ambitious pol who sometimes has difficulty getting out of her own way, as was the case in 2010 when the Connecticut Supreme Court disqualified her from running for state attorney general while she was then the secretary of the state, Connecticut's chief elections official. She then challenged Chris Murphy in the 2012 U.S. Senate primary when she falsely accused Murphy of accepting "more hedge fund money than any other Democrat in Congress," an assertion her campaign acknowledges is unsupported by the data it cites.
Her historic campaign tactics has led to a moniker "queen of mean."
Right now a Lamont-Bysiewicz ticket faces major obstacles to inspire urban voters. New Haven and Bridgeport produce the most Democratic votes in a general election.
As OIB friend Paul Bass notes in the New Haven Independent "Ned Lamont may have bought a little intraparty peace by luring a top opponent onto his gubernatorial campaign ticket–but he also may have sucker punched his urban base."
The urban political howling is real, and not just because Ganim, Lamont's most immediate opponent heading into the convention, is fanning the flames of discord.
Lamont earned his campaign stripes in 2006 defeating incumbent U.S. Senator Joe Lieberman in a primary on a war protest vote. Lamont failed to pivot his campaign to appeal to unaffiliated voters that settle statewide elections in Connecticut. Lieberman was reelected on a third-party line. Four years later Lamont returned challenging party endorsed Dan Malloy in a Democratic primary for governor. Bridgeport's political establishment including Mayor Bill Finch and Town Chair Mario Testa backed Lamont believing his self-funded millions would carry the day. He was lanced in the primary by Malloy who won a razor-close general election against Republican Tom Foley in which Bridgeport became the center of controversy with Bysiewicz taking heat as chief elections official, a period in which she made several dubious decisions that diminished her standing.
For the past eight years Lamont has done little to elevate his profile in urban areas. He ran for governor, Bysiewicz as well, because high profile pols such as Malloy, Lieutenant Governor Nancy Wyman and Attorney General George Jepsen opted out.
You add up a limousine liberal from Greenwich in Lamont and Bysiewicz's baggage that will be exploited by the eventual Republican candidate for governor and now it places an extreme premium on urban areas to deliver a November victory.
So for Lamont, this is shaping up as a lazy man's way to avoid a primary that included Bysiewicz. Meanwhile what's to inspire urban voters?