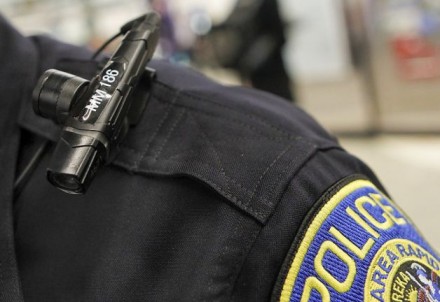 Is the Bridgeport police force considering body cameras for all its sworn officers? Police Chief Joe Gaudett says it's a worthy discussion in conjunction with the Police Union to both guard against police abuse and abuse heaped on cops. Bridgeport has had its share of police abuse issues, including the 2011 stomping of a man in Beardsley Park that led to federal civil rights charges against three officers and a $200,000 taxpayer-paid legal settlement.

According to a report by the Wall Street Journal, in "Rialto, Calif. … an entire police force is wearing so-called body-mounted cameras, no bigger than pagers, that record everything that transpires between officers and citizens. In the first year after the cameras' introduction, the use of force by officers declined 60%, and citizen complaints against police fell 88%."
In an effort to rebuild trust between law enforcement and communities following Ferguson, President Obama announced a funding package to equip local police forces with 50,000 body cameras nationwide. It could spur local law enforcement officials put off by costs to revisit implementation of cameras.
Gaudett in the past has said he'd be open to body cameras as well as dashboard cameras, but cited funding issues. This, of course, must be measured against what it costs taxpayers because of police misconduct.
The Bridgeport Police Department has no dashboard cameras in its 63 patrol cars. Civil rights activists like them to guard against police abuse, even some cops like them because they can contradict a false citizen complaint. So the cameras function as both protection for citizens as well as guarding officers from false claims.
The East Haven Police Department, facing a federal investigation into racial profiling including federal criminal charges against four officers, installed dashboard cruisers at a reported cost of $115,000 for 16 cars.