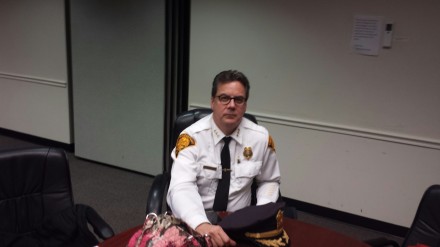 Several irritated City Council members Monday night including President Tom McCarthy groused through the proposed three-year contract with Joe Gaudett in which he will resign as chief and become a consultant in the Emergency Operations Center, a move that now allows Mayor Joe Ganim to appoint ally Captain A.J. Perez as acting police leader likely in a few days. The contract was approved by a vote of 13-6. Gaudett will receive $125,000 per year, in addition to his city pension of $78,534 accrued through his years as a police officer.
In addition to McCarthy, councilors Kate Bukovsky, Scott Burns, AmyMarie Vizzo-Paniccia, Michelle Lyons and Jose Casco voted no.
McCarthy urged council members to vote against the contract claiming it violated the city's bidding procedures. McCarthy recently worked out a severance package with the city leaving his job as deputy director of Labor Relations, a Ganim campaign pledge to reduce conflicted city employee councilors.
Schmoozing concerned council members, Ganim said Gaudett has the expertise to efficiently coordinate emergency operations and dispatch center in conjunction with police and fire to improve response time. He urged the council to approve the contract. "We've developed a good result here."
Councilwoman Eneida Walker asked how they settled on the $125,000 a year compensation. Associate City Attorney Mark Anastasi said the number was arrived at between lawyers for the chief and the city, adding "there's no secret" hiring Gaudett as a contractor frees up another position (police chief) to be filled.
While Gaudett has been a genial public face of the Police Department, many members of the police union that supported Ganim's comeback bid wanted Gaudett out including union chief Chuck Paris who attended the council meeting. He applauded the contract approval saying new leadership will benefit the department. Perez, well-liked within the Police Department, also observed the council meeting. He said he's looking forward to his new role as acting chief. The civil service selection process for a permanent chief could take up to a year.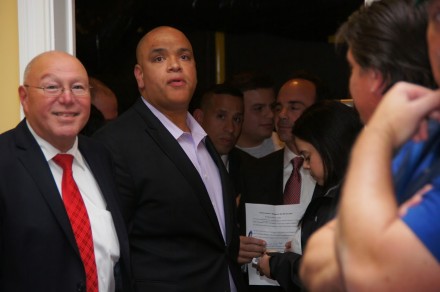 During the Contracts Committee meeting prior to the full council vote, Chief Gaudett said "I believe that I can bring value to this position."
McCarthy asserted "this doesn't look like to me an independent contractor […] Will he be supervising employees?"
Anastasi said there is an expectation Gaudett will be operating through an appropriate chain of command reporting to the mayor.
McCarthy said it "sounds like you're stepping over the line as an independent contractor and this is more like a city employee."
McCarthy questioned the need to bypass a formal bidding process to determine if anyone else was more qualified.
Anastasi countered Gaudett has an expert skill set no one else brings to the table, especially during the city's fiscal challenges. Anastasi added Gaudett's presence will help streamline the department to save money.
At 6:45 p.m. the Contracts Committee adjourned its debate of the contract vote to attend a special meeting of the full City Council. The full council eventually adjourned its meeting so the Contracts Committee could reconvene to vote on the Gaudett contract. The committee reconvened at 8:10 p.m. and voted to approve, sending the measure to the full council for a vote.
Addressing concerns about bypassing bidding, Finance Director Ken Flatto added Gaudett has a unique skill set. He said a freeze in spending has made funds available to cover the $40,000 to pay Gaudett for the rest of the fiscal year ending June 30.
Councilman John Olson, backing the contract, said "this is a political thing, two men (Ganim and Gaudett) got together and compromised something that can work. Everyone is going to win. It's a good deal for both of us."
Councilwoman Michelle Lyons said she's concerned Purchasing Agent Bernd Tardy was not asked to attend the meeting. City officials said Tardy signed off on the process to select Gaudett outside of a formal bid process because of his unique qualifications.