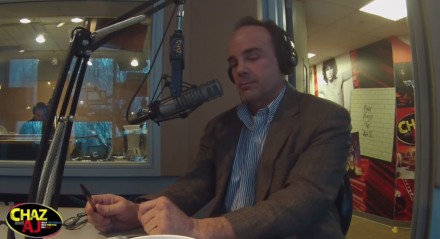 Mayor Joe Ganim made it official Wednesday morning declaring his candidacy for governor asserting he wants cities to drive a new Connecticut economy. Ganim made his announcement this morning on the WPLR radio show hosted by the jocular Chaz and AJ. He later met the media after filing his paperwork. Ganim issued this statement, "I am far from a perfect candidate; I'm someone who has made mistakes in my life. Three years ago, I asked the voters of Bridgeport for a 2nd chance to get it right and improve our quality of life, and I am grateful they gave me that opportunity. Now, I can see that all of Connecticut needs a 2nd chance to succeed. We can create and build that future together. I want to open all the doors of opportunity for everyone in our state. Connecticut needs a new direction to achieve growth and realize our full potential, and I am offering 14 years of success as an example of what we can accomplish together."

Ganim made an in-studio appearance on his way to Hartford to file his candidate committee paperwork with the State Elections Enforcement Commission the campaign oversight agency that denied Ganim participation in the state's public financing program based on his 2003 public corruption conviction. So Ganim is raising campaign money the old-fashion way through larger dollar donations to compete with the roughly $1.4 million jackpot the SEEC parcels out to qualifying public dollar candidates in primaries. Party nominees receive a walloping $6.5 million for the general election.
Ganim has made many appearances on the audience-potent Chaz and AJ including in 2015 to kick off his comeback to the mayoralty. The boys kept things light, asking Ganim about taxes, public financing, his social life during the quick-hit announcement. Ganim said ultimately the race will not turn on who has the most campaign money but who has the experience to turn around a state loaded with red ink.
Ganim is being shadowed for the day by Hearst Media reporters Neil Vigdor and Brian Lockhart so Ganim will receive plenty of play in its universe of publications that include dailies in Stamford, Greenwich, Norwalk, Bridgeport, Danbury and New Haven. Ganim will make stops in Hartford, New Haven, Waterbury before completing the day with a kickoff reception 6 p.m. at Vazzy's on the Upper East Side.
As Ganim left the radio studio Chaz cracked, "If he wins the governor's office you know this is a movie."
The Ganim campaign kicked out this news release:
Pledging that We can do better–Bridgeport Mayor Joe Ganim today filed the necessary paperwork with the State Elections Enforcement Commission to run as a candidate for Governor of Connecticut in 2018. Citing his more than 14 years as Mayor of the state's largest city, Ganim is pledging to work hard to revive the Connecticut economy and stabilize state government finances.

"The road to bringing fiscal stability back to Connecticut runs through economic development and job growth. We can get Connecticut back to being the powerhouse of innovation and industrial strength–where young people and entrepreneurs come to start businesses and create jobs, raise their families and make a global impact," said Mayor Ganim. "Our cities should be the engines that drive our economy that benefits residents of all towns in Connecticut. For too long, we have watched young people educated in our schools flee our state because it is just too expensive to live here and they need to go elsewhere to find the right employment. Companies are also leaving. According to federal labor statistics, Connecticut lost nearly 10,000 jobs in the last two months alone. We can do so much better. We need the best public schools in America educating the workforce of the future. We need to vastly improve our transportation infrastructure and take other steps to make Connecticut more business friendly. My 14 years of experience as Mayor of Bridgeport have shown significant accomplishments bringing economic revitalization in three different decades–we are leading a path to create thousands of jobs. We are doing all of this while balancing our budgets, holding the line on taxes, and paying down our long term debt."

Joe Ganim was first elected Mayor of Bridgeport in 1991, helping to bring a struggling city out of bankruptcy and state financial control. He led several nationally recognized urban renewal projects that resulted in the building of a minor league baseball park, a 10,000 seat indoor arena, the relocation of a community college campus to downtown Bridgeport, and he also launched a $1 Billion waterfront development project at Steelpointe that is still advancing today. Ganim served as Mayor until 2003, and was later re-elected to the position overwhelmingly by Bridgeport voters in 2015.

Ganim added, "I am far from a perfect candidate; I'm someone who has made mistakes in my life. Three years ago, I asked the voters of Bridgeport for a 2nd chance to get it right and improve our quality of life, and I am grateful they gave me that opportunity. Now, I can see that all of Connecticut needs a 2nd chance to succeed. We can create and build that future together. I want to open all the doors of opportunity for everyone in our state. Connecticut needs a new direction to achieve growth and realize our full potential, and I am offering 14 years of success as an example of what we can accomplish together."

Since winning re-election to the position of Mayor of Bridgeport, Mayor Ganim has led significant economic development efforts including: a $550 million conversion of the last coal-fired power plant in New England to cleaner burning natural gas facility; a $400 million dollar redevelopment of two historic theaters in Bridgeport's downtown and the building of the tallest building in Bridgeport including a new mixed income apartment tower; the $150 million gutting and conversion of the abandoned, blighted former American Gramophone factory into hundreds of new housing units and a new school in the West End of the city; the $20 million conversion of the Harbor Yard baseball stadium into a state of the art outdoor concert amphitheater to be managed by Live Nation; and the newly proposed $700 Million MGM casino resort on Bridgeport's waterfront that has the potential to bring 7,000 jobs to the region.

Mayor Ganim has aggressively pursued the clearing of vast swaths of urban blight in the city's neighborhoods for new development and rebuilding. Ganim has also partnered with New Haven Mayor Toni Harp to make a serious pitch to host the new Amazon HQ2 for the greater Bridgeport-New Haven region, potentially bringing 50,000 new jobs to Connecticut. Under Joe Ganim's leadership, Bridgeport has also been recognized nationally and internationally as a leader in environmental sustainability efforts, becoming the first city in the United States to embrace new groundbreaking district thermal heating loop technology to drastically reduce carbon emissions for the downtown urban area.

In launching a campaign for Governor of Connecticut, Mayor Joe Ganim is inviting the public to visit www.ganim2018.com to find out more about the candidate, make a secure online contribution, or get involved in scheduling events. Mayor Ganim will be raising funds for his campaign outside of the Connecticut Citizens' Election Program, meaning individual contribution limits are $3,500 for the primary election cycle. Mayor Ganim is looking forward to continuing a conversation with the voters of Connecticut started with an exploratory committee in the spring of 2017, and will be visiting as many different Connecticut communities as possible taking a positive message of economic growth and a better future for us all. Join us on social media!

Facebook: www.facebook.com/JoeGanim2018/
Twitter: twitter.com/joeganim2018