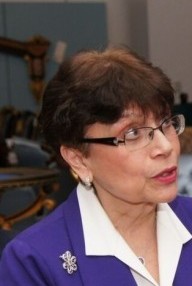 The state Freedom of Information Commission on Wednesday sided with a state hearing officer who ruled city lawyers directed an illegal executive session of the City Council's Budget and Appropriations Committee whose members have been ordered to a training session on the provisions of the Freedom of Information Act following a May meeting that was challenged by retired Superior Court Judge Carmen Lopez after the public was shut out.
For background see here.
From Matthew Kaufmann, Hartford Courant:
Shortly after the Bridgeport City Council's budget committee opened its meeting last May, Councilwoman Jeannette Herron took up the first order of business with a directive to members of the public.

"Okay, everybody out," she declared.

"Make a motion," Council President Aidee Nieves said, followed by a city attorney saying something–it was partly inaudible as council members talked over each other–about pending litigation.

"I make a motion to go into executive session for whatever he said," Councilwoman Christina Smith offered.

Said another: "All in favor?"

That, it turns out, is not how executive sessions are supposed to happen in Connecticut. And Wednesday, the state's Freedom of Information Commission declared last May's secret meeting illegal and ordered Bridgeport to create minutes of the gathering and schedule a training session on the law. That training is mandatory for all members of the city's Budget and Appropriations Committee. City attorneys, meanwhile, "are strongly encouraged to attend."
Full story here.