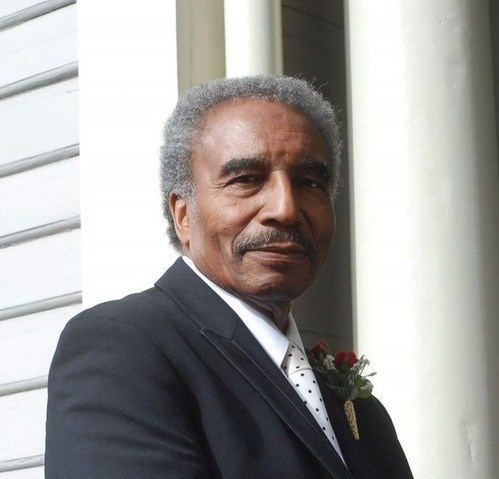 City councilman, leader of the Greater Bridgeport NAACP, East End clothing shop owner, Julian Braxton was an iconic figure in Bridgeport. He passed away last week at 90 years of age.
See video tribute to Braxton below produced by hip-hop artist Vernon Thompson, an assistant principal at Harding High School, followed by his obituary courtesy of Morton's Mortuary.
Julian V. Braxton was born on September 10, 1932 in Lowesville, Virginia to the late Orville Braxton and Murrell (Wright) Braxton. Julian was educated in the Virginia school system. As a teenager he played the guitar at social events, operated his own store on the weekends when other stores were closed and sold household items door-to-door.
He served in the U.S. Army stateside during the Korean War conflict, stationed at Fort Sam Houston in San Antonio, Texas. Not long after discharge he married his sweetheart, Elizabeth Williams, who he met at a church rally in Fishersville, Virginia. They moved to Bridgeport where he worked for many years at General Electric and Living Furniture, before opening Braxton's Men's Shop at 1164 Stratford Ave. in the East End of Bridgeport with his wife. Braxton's was a staple in the city for more than 50 years, supplying tuxedo rentals, business attire and casual wear and accessories. The shop was one of the longest-running businesses in the East End of Bridgeport.
As his daughters were growing up, he impressed upon them the importance of volunteering and reaching back to help those less fortunate. He lived by example. Braxton served on the Bridgeport City Council, served several terms as president of the Greater Bridgeport Branch of the NAACP. He served on the board of Habitat for Humanity Coastal Fairfield County and the Board of Advisors for the University of Bridgeport. He sponsored the East End Little League, funding uniforms and sports equipment for the young athletes.
He also mentored his daughters in the retail business, assigning them administrative and salesperson duties beginning when they were children and taking them to meetings with wholesalers in New York City and retail trade shows and expos in New York, California and Las Vegas.
He was a longtime member of the Rotary Club of Bridgeport and influenced his daughter, Lisa to join. Father and daughter attended meetings together for many years.
He was a member of the Messiah Baptist Church Men's Chorus and a former member of the church board of trustees.
He is predeceased by his wife, Elizabeth W. Braxton with whom he shared 65 years of marriage, sisters, Dorothy Robertson, Mary Barbour, Pauline Barber, Berta Sheffey, Elsie Yancey, Louise Rogers, and Alice Williams, brothers, James Braxton, Wade Braxton, John Braxton, Willard Braxton and Norvel Lee Braxton. He is also predeceased by his goddaughter, Denise Jones.
Julian will be greatly missed by his daughters, Lisa Braxton-Reid (Alex) of Easton, Massachusetts and Sylvia Lee (Aron), of Rockville, Maryland, two grandchildren, Julian Lee and Raven Lee, of Rockville, Maryland, and one step-granddaughter, Elizabeth Reid of Colorado Springs, Colorado, two godchildren, James Grantham, of Bridgeport and James Wesley Horne III of Bound Brook, New Jersey, and a host of nieces, nephews, and cousins.
Julian, a community leader, humanitarian, and entrepreneur, touched many hearts and changed many lives through his wisdom, generosity, and volunteer work and civic activism. He will be missed by all who knew and loved him. We as his family surrounded him as he went home to be with the Lord. We take great comfort in knowing that there is one more angel watching over us and he has been reunited with our mother.