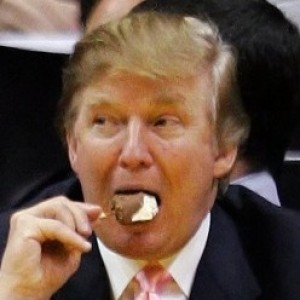 What a goof. Donald Trump, America's modern P.T. Barnum, is giving the national media a paint job. And loving every minute. Four years ago at this time Rudy Giuliani "America's Mayor" was leading all GOP comers in national presidential polls. He flamed out. So will Donald. Except Rudy really wanted to be president. For Donald, it's a mega public-relations stunt and he loves the high. As he told me many times when I did public relations for him when a casino was in play for Bridgeport, "Lennie, people love the bullshit." Here's the latest GOP fear from Reuters:

Concerns voiced by party elites suggest they are worried that the news media's fascination with Trump is crowding out some of the attention normally bestowed on the most serious of the Republican candidates.

Even if Trump emerged victorious as the Republican nominee, influential party players seem to doubt that he'd be able to defeat Obama.

Karl Rove, who was the architect of Republican George W. Bush's two presidential victories, called Trump a "joke candidate" for focusing on Obama's birth certificate.

"The guy is smarter than this," Rove told Fox News.

The Club for Growth, a conservative economic group, pointed to a statement that Trump had made in the past in support of government-run healthcare to denounce him as a liberal.

"Donald Trump for President? You've got to be joking," said Club for Growth President Chris Chocola. "Donald Trump has advocated for massive tax increases that display a stunning lack of knowledge of how to create jobs."

And conservative newspaper columnist George Will told ABC News' 'This Week' online 'Green Room' segment that Trump is a 'blatherskite.'"

"That is a word my grandmother was fond of as someone who blathers promiscuously," Will said.
Trump is going to milk this national media fascination for as long as it helps his television ratings, real-estate offerings, vodka sales, book purchases and anything else that comes under the Trump industry umbrella. Why? In Trump's world bullshit sells. But let's assume that Trump is really serious about running in GOP primaries. He's got more baggage than Kennedy, LaGuardia and Newark combined. Republican voters will not see him as a true conservative, just like they didn't see Rudy. He'd be better off running a national independent candidacy for president than the GOP route. Meanwhile, national Dems are saying, "Donald, we love you, we want you, we need you, keep it coming."