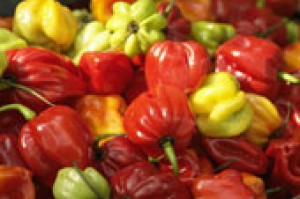 Tsunami Tuesday's approaching. How will you vote two weeks from today? Will you vote? That's a rhetorical question, of course. OIB readers vote! (It just may be too soon to say for whom.)
Lots of soft voters out there who will harden this week as candidates make their case. The big-ticket items are the two primaries to determine the respective party nominees for governor. On the Democratic side Dan Malloy and Ned Lamont, and the GOP side Tom Foley, Michael Fedele and Oz Griebel. The slinging has started from just about all the camps and look for the habanero heaving to continue for the next week. You don't want to get hit by a habanero.

Tom Foley has such name recognition and polling lead on his GOP rivals they'll need some political pepper spray to change the course of the primary. The Dem side is different. This thing is so close statewide (I'm sure I'll hear from the respective campaigns why it's not close), every move, every endorsement, every decision is like battling at the margins.
Close to home in the state's largest city, I also see this as close, and a lot is riding on the egos involved. Democratic Town Chair Mario Testa's gonna empty his political tank to deliver a victory in the city for Lamont. How much is left in the tank? And what's a victory? Mario delivered all his delegates for Ned at the party convention in May, but how many are actually working and some have even bolted to the Malloy side. Yes, that's what happens. Okay Mario, you'll have my support at the convention for a united front but don't expect too much after that. Why does this happen? Divided loyalties, my cousin will kick my ass if I don't help him out, my uncle will throw a primary against me if I don't support the other guy, the shrimp cocktail is better at their campaign events. Oh, yeah, sometimes it comes right down to the shrimp. Is this the fresh gulf shrimp or the stuff netted out of the BP spill?
But of course, Ned's camp a has a lot more dough to spend on shrimp. Anything under 60 percent of the vote for Ned in the city will be a disappointment for Mario. When all your delegates vote for one candidate at a convention you better do at least that. We'll see.
Mayor Bill Finch also supports Ned, so much so his Chief of Staff Adam Wood has taken a leave of absence to advise the Lamont campaign. Woody's not there to organize Bridgeport, he's there as a senior strategist at the statewide table. Organizing Bridgeport for the Lamont campaign from a downtown headquarters is veteran union organizer and campaign operative Dave Bosco. Dave and I have worked together on races and he knows what he's doing. Even the mayor's son Chris is working for the Lamont campaign as a paid staffer.
Lurking and working for Malloy is former Town Chair John Stafstrom, a veteran of numerous city races. Malloy's Bridgeport headquarters is located on North Avenue. A whole bunch of city pols who have been with Mario on past races are supporting Malloy. State Rep. Auden Grogins, State Rep. Andres Ayala, East End District Leader Ralph Ford, former City Council President Lisa Parziale, Black Rock District Leader Danny Roach.
The wildcard pol in the Bridgeport guber race is State Rep. Chris Caruso. What will the Big Wave do? Why does it matter? Caruso is super popular in his legislative district and his constituents want to know–or will be informed–who he's supporting. Caruso could sit this out. But if he endorses, and a decision is due within the next day or so, he'll not endorse and go to sleep. He'll be working hard to make sure his legislative precincts vote for his choice. Caruso's support could mean hundreds of votes in either direction in a low-turnout primary.
How do I know this? Because I've managed races with Caruso's support for my candidates. I've managed races without it. My candidate always ran stronger with his support.
Plus, the Big Wave's got his eye on the mayoralty next year. Not too soon to flex the electoral muscle.
By the way, mark your calendars for August 5, 6:30 p.m. Black Rock Library. OIB friends John Gilmore and Jim Callahan, former Post scribes, and I will handicap Tsunami Tuesday and share stories from our favorite elections.
Speaking of primaries, State Senator Dan Debicella who was raised in Bridgeport is being challenged by former Bridgeport GOP Chair Rick Torres and Rob Merkle of Norwalk, a favorite of Fairfield County Tea Party types, in the Fourth Congressional District Republican primary. This primary seems teed up for the well-funded Debicella with Torres and Merkle splitting the GOP conservative vote. The winner will face Democratic Congressman Jim Himes in November. Debicella launched his first cable ad on Monday:
Himes Announces Bridge Moolah
Still a long way to go to rebuild the Congress Street Bridge, but it's a start. From Jim Himes:
Himes, Finch, Pavia Announce Funding for Local Transportation Projects

Congress Street Bridge and Stamford Urban Transitway receive appropriations

Washington, DC – Congressman Jim Himes (CT-4), Stamford Mayor Mike Pavia, and Bridgeport Mayor Bill Finch announced today that the U.S. House Appropriations Committee has approved $1 million for completion of the Stamford Urban Transitway and $450,000 for the construction of Bridgeport's Congress Street Bridge.

"Even in tough economic times, investing in our local infrastructure is absolutely critical," said Himes. "Both of these projects improve access to the cities' downtowns, which will help local businesses thrive and create jobs."

The Stamford Urban Transitway is the centerpiece of Stamford's effort to connect the Stamford Transportation Center with its Amtrak, regional rail, and commuter bus facilities. Himes and Pavia recently announced a $16 million grant for the second phase of the Stamford Urban Transitway. Along with local funding, this $1 million is likely to provide the necessary funds to complete the project.

"Congressman Himes' critical leadership in securing what we see as the final dollars to complete the Stamford Urban Transitway strengthens the future of Stamford's economic growth," said Pavia. "The Transitway is a key component of Stamford's expanding transit-oriented development."

Once completed, the Transitway will increase access to public transportation, improve deteriorated air quality, and open the south waterfront to a $4 billion brownfields revitalization and mixed-use redevelopment now underway. The Transitway will connect several regional transportation facilities with bus, high occupancy vehicle, vehicle, and bicycle and pedestrian lanes. Improvements will also be made to sidewalks, bicycle lanes, and surrounding roads.

The Congress Street Bridge once connected Bridgeport's east side with downtown, but over a decade ago, the drawbridge became unsafe to operate and was left in the upward position. During his first year in Congress, Himes secured funding to demolish the bridge, the first step toward reconnecting the east side with the rest of the city. This appropriation is the first federal funding secured to rebuild the bridge.

"I applaud Congressman Himes' continued efforts to secure funds for the rebuilding of the Congress Street Bridge," said Finch. "There is still much to be done, but thanks to the Congressman we are closer to achieving this goal than ever before."