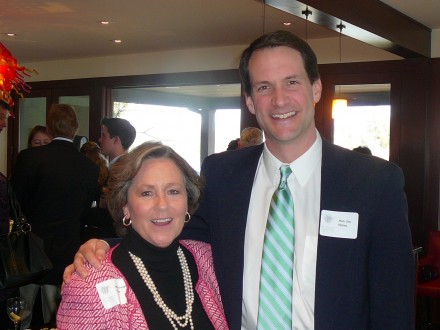 From the University of Bridgeport:
Rep. Jim Himes to address Class of 2012 at University of Bridgeport Commencement Ceremonies on Saturday, May 5

Rep. Jim Himes will give the Commencement Address and will receive an honorary Doctorate of Humane Letters at the University of Bridgeport 2012 Graduation Ceremony to be held at 10 a.m. Saturday, May 5 at the Arena at Harbor Yard.


The Class of 2012 will join members from the Class of 1962, who will be honored as Golden Knights on the 50th anniversary of their graduation.

A separate ceremony will be held for health science graduates on Sunday, May 13 at the Mertens Theater in the Arnold Bernhard Center beginning at 11 a.m.

"Congressman Himes's commitment to fiscal responsibility, tempered by his compassion for the disadvantaged, provides an excellent role model for our graduating students. He is the perfect speaker to address our 1,150 candidates who make up the Class of 2012. He has been a true friend of the University, and his support for our programs has been invaluable," said University President Neil A. Salonen.

"As a child, he lived in Peru and Columbia, where his father worked for the Ford Foundation and UNICEF, so he has a unique understanding of the value of an international education and appreciates the rich cultural and academic diversity at UB," Salonen added. "We are proud to honor his commitment to our campus and to all students."

Rep. Himes has represented Connecticut's 4th Congressional District since 2009 and is a member of the House of Representative's Financial Services Committee. He earned his bachelor's degree from Harvard University, and later, as a Rhodes Scholar, earned a master's degree from Oxford University in England.

A former vice president at Goldman Sachs, he went to work for Enterprise Community Partners, a nonprofit devoted to solving affordable-housing issues and other challenges of poverty. His political career began when he was elected as a member of the Board of Estimate and Taxation in Greenwich CT, where he lives with his wife Mary and daughters Emma and Linley.