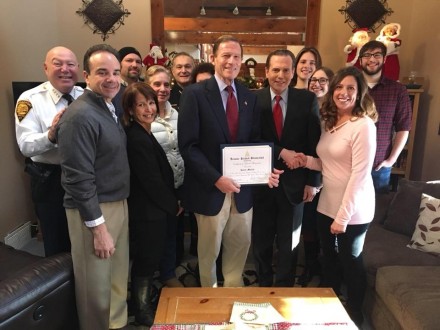 Connecticut leaders are urging support for a Bridgeport nurse fighting for her life battling inoperable pancreatic cancer. Karen Marlin, a mother of three, has put her profession on hold. See News 12 coverage here.

More on this from Facebook:
Karen is a single mother. She has three (3) children, Kyle (19), Jake (17) and Alissa (15) all Town of Trumbull students. She is a Registered Nurse and works at Bridgeport Hospital in the Main OR for nearly 30 years. In October of 2016, Karen was diagnosed with Pancreatic Cancer. Karen took the news of her diagnosis very hard.

With strong determination, she continues to support her three children and attempts to meet all of her financial obligations. At first, the cancer was deemed operable. She received her first round of treatments which included chemotherapy and radiation. There was optimism that the cancer was under control. Unfortunately, the cancer has come back aggressively and is not operable. Karen will continue to fight with further intensive treatments making her return to work impossible. She has exhausted her savings during the first round of treatments. Karen would certainly never ask for financial and emotional support, but she is at a point in her life where she needs a helping hand. Please join our community to raise the needed funds to help this wonderful family in a time of need.

If you are interested in making a donation or purchasing tickets to the fundraiser, please contact Isabel Perez 203.816.7398, Gina Malheiro 203.260.4697 or Barbara Rudini 203.521.7957.

Fundraiser Location: Vazzy's Four Seasons
Date/Time: Friday, March 2, 2018 from 6pm to 11pm
Suggested Donation: $75 minimum per ticket/per person
(100% of your donation will go toward the needs of Karen Marlin and her family.)

Checks made payable to:
The Marilyn Goldstone Foundation
1395 Huntington Turnpike
Trumbull, Connecticut 06611
Please reference Memo: Karen Marlin

In advance, the Marlin Family would like to thank you for your support and generosity during a difficult time.