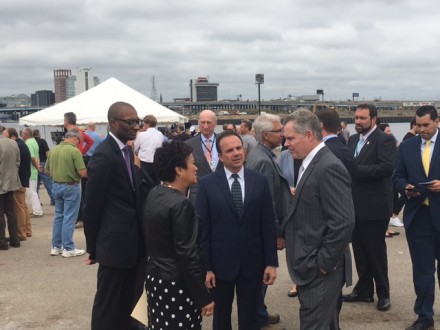 Mayor Joe Ganim has logged numerous miles to delegate-rich New Haven as he ponders a run for governor with an eye on the Democratic convention in May where he'll need 15 percent delegate support to qualify for a presumed August primary. He's built a partnership with Mayor Toni Harp, a former state senator, for a joint Amazon proposal as well as MGM's pitch to build a $675 million waterfront casino in the city with New Haven serving as host of MGM's workforce development and training center extending the economic impact to the Elm City, if approved by the state. For Ganim, New Haven provides three key ingredients, the most delegates at the state party convention, an abundance of urban voters and an alliance with Harp that builds credibility for a mayor with a troubled past.

Ganim would love that alliance to extend to a gubernatorial ticket. Ganim, however, has plenty of company if Harp is considering a run for lieutenant governor, as examined by Hearst Connecticut political reporter Neil Vigdor. And some argue that Harp herself is gubernatorial worthy in a potential field with a glut of mayors.
"Mayor Harp could be easily running for governor," Ganim said Tuesday. "Any partnership that could be developed there, if one could, would be a hugely dynamic team, not just for the cities but for Connecticut. That type of discussion is not something that you do in the press."

… Ganim said the cooperation he's had with Harp has been unprecedented and that their two administrations spent "hours, days, weeks together" developing their joint pitch to Amazon for its second headquarters. There was also a joint appearance of the mayors at the September ground-breaking for MGM Bridgeport, a $675 million privately funded casino and resort project that still must gain state approval. Ganim referred to himself and Harp as "co-mayors."

"That's something, no matter how we work together in the future, we've shown that the state's two largest cities can work together and set a very positive example for the state," Ganim said.
Full story here.