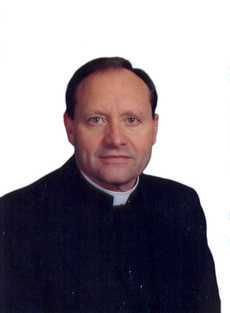 CT Post scribe Anne Amato has crafted one of the most insightful pieces when it comes to the Diocese of Bridgeport selectively throwing one of its own under the bus, in this case "monsignor meth" Kevin Wallin indicted by a federal grand jury in a drug probe last week as well as removed by the church for sexual misconduct, according to Diocesan spokesman Brian Wallace. "We became aware that he was acting out sexually–with men–in the church rectory," Wallace is quoted in Amato's story. Fascinating.

Maybe the church has found religion about doing what's right after decades of covering up sexual molestation of children that cost tens of millions of dollars to settle in civil litigation. Wallace, with the blessing of the church, issued more revealing public comments about Wallin in Amato's story than the collective misconduct of all other priests, couched in crime-over-sin. They don't out sinners, says Wallace, just crimes. So, abusing children wasn't a crime? Oh that's right, statute of limitations had passed by the time church leadership had learned of it (or covered it up). How convenient.
Amato's article:
Looking back there were the usual warning signs, those nagging red flags. In Monsignor Kevin Wallin's case, there was the weight loss, the change in his usually meticulous appearance and his erratic behavior that concerned his parishioners and others, including church officials.

"He just didn't look right; he didn't seem the same," said Brian Wallace, spokesman for the Diocese of Bridgeport.

Then came the talk about inappropriate sexual behavior by Wallin, then pastor at St. Augustine's Church. "We became aware that he was acting out sexually–with men–in the church rectory," said Wallace.

The main concern was to rule out what Wallin, 61, was doing was criminal, in particular that he was doing anything inappropriate with children.

"We determined that wasn't the case," Wallace said. "There's a difference between sin and crime. We don't out people for their sins."

Since his sexual behavior was deemed "not fitting for a priest," Wallin was asked to, and did, resign in June 2011, just shortly after the concerns were brought to the attention of the Diocese, he said.

After Wallin left, a bag with "sex paraphernalia" was found in his room, Wallace said.

He said their main concern was to "protect the parish–to make sure (Wallin's) behavior didn't hurt anyone." He added that, at that time, there was no indication of drug use by Wallin, or that he was cross-dressing.

The Diocese wouldn't learn about those allegations until after Wallin's arrest earlier this month on charges of participating in the conspiracy to sell crystal methamphetamine, as well as dealing the drug.
Read full story here.