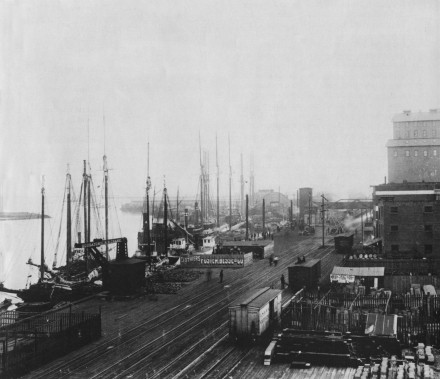 On Monday the state's largest city celebrates its 175th birthday. From MARK TWAIN, A Connecticut Yankee in King Arthur's Court, 1889.

So I gave up the idea of a circus, and concluded he was from an asylum. But we never came to an asylum–so I was up a stump, as you may say.

I asked him how far we were from Hartford. He said he had never heard of the place; which I took to be a lie, but allowed it to go at that. At the end of an hour we saw a far-away town sleeping in a valley by a winding river; and beyond it on a hill, a vast gray fortress, with towers and turrets, the first I had ever seen out of a picture.

"Bridgeport?" said I, pointing.

"Camelot," said he.
If not for Samuel Clemens' friendship with Bridgeport's most famous citizen P.T. Barnum we may never know his nugget from a Connecticut Yankee. Clemens was born about two months before Bridgeport's official birth as a city. Before there was Bridgeport it was called Stratfield taking its name from Stratford to the east and Fairfield to the west. Damn Stratford left its nascent most of the bridges to upkeep over the port so it seemed reasonable to call the new place Bridgeport, first as a town in 1821 then a city in 1836.
So, what birthday gift would you give the city? For me it would be excessive surplus of hugs and kisses for keeping me off the unemployment lines. Shoot, I have a whole bunch of stuff on my wish list of gifts for the city like a general embrace from General Electric. C'mon guys, corporate is only a half mile from the city. Just move it over a bit. We need the tax revenue.
How about Mayor Bill Finch embracing Mary-Jane Foster at the University of Bridgeport. (Do I sound greedy?) I'd love that photograph.
How about Bill Gates opening Microsoft East?
Dan Malloy morphing into Lowell Weicker to spread around generous portions of revenue from new tax increases.
Barack Obama making a return visit to the city to host the Democratic National Convention in 2012 at the Webster Bank Arena. We'll take the Republicans too. What say you, Mitt?
So let us know, if you could wave your magic wand, what birthday gift would you give the city? I've fired up 175 candles.