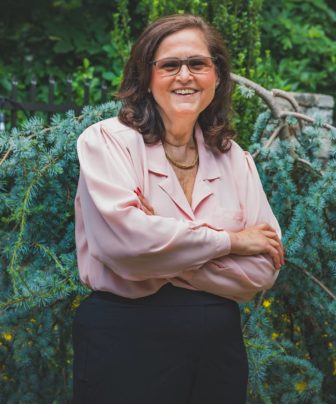 Republicans must pick up four seats to gain a majority in the State Senate and one of the targeted races to watch is the contest between GOP nominee Elaine Hammers and Democrat Marilyn Moore who emerged last week from a blowout win against primary opponent Tom McCarthy in Connecticut's 22nd city-suburban swing district.

Hammers is no stranger to politics and government. She served a term in the State House and challenged Bill Finch for the Senate seat in his first reelection in the district in 2002. She has served as Finance Director for the town of Trumbull where she currently serves as chair of the Board of Finance that cut taxes in town for the budget year that began July 1. She knows fiscal policy and isn't shy about mixing it up on the campaign trail.
Two years ago, after defeating party-endorsed incumbent Anthony Musto in an August primary, Moore won the seat in a close contest running up large pluralities in Bridgeport to offset Republican Rick Costantini's suburban wins. The district covers about one-third of Bridgeport, all of Trumbull and a piece of Monroe.
Moore won Bridgeport 6,566 to 2501, Costantini took Trumbull 7,720 to 4819, and Monroe 1,324 to 852.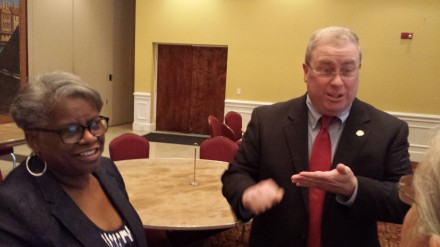 Straight-up Democrat to Republican, Moore won the district 12,237 to 11,545, a close race. But Moore banked another 1,202 votes running on the Working Families Party line, which she will occupy again in November. One difference this time around is Hammers appearance on the Independent Party line that Costantini did not enjoy.
For a small percentage of voters, a major party label is anathema to their electoral tastes and minor party candidates benefit from that participation. The WFP line has bolstered many candidates throughout the years. For instance in 2010 Republican gubernatorial candidate Tom Foley received more votes party to party than Democrat Dan Malloy, but the extra WFP votes propelled Malloy to victory.
In many state races the Independent Party line that generally has been occupied by Republicans has offset the WFP line on behalf of Democrats.
Presidential politics will also come into play in this race as turnout will swell from the gubernatorial cycle two years ago. Republican presidential candidates historically perform well in Trumbull and Monroe that lift up the underticket. Republican political operatives in Trumbull are concerned about Donald Trump's free-fall in recent polls and what that could mean to the underticket. So that requires the Hammers campaign to place a premium on running a personalized campaign that connects with voters. The ballot line is President, US Senate, U.S. Representative, State Senate and so on.
Moore and Hammers will have equal money to spend–about $110,000–having qualified for Connecticut's Citizens Election Program of publicly funded races. They both raised $15,000 in small donations to receive a $95,000 grant. But as a swing district both campaigns are likely to benefit from independent expenditures.