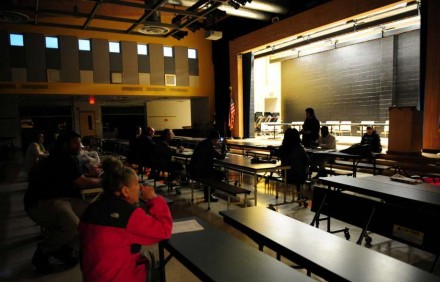 Four Board of Education members conducted a meeting Tuesday night at Geraldine Johnson School claiming they had a representative quorum because they don't acknowledge two members appointed by Mayor Joe Ganim to fill vacancies. Board Chair Dennis Bradley, in conflict with the four members, had cancelled the meeting asserting police could be called to remove them from school grounds. The meeting took place, police showed up, no one was arrested, the lights went dark at one point in this surreal control for school policy. Does the meeting have legal standing? A state judge may need to sort this out. Board member Maria Pereira shares her observations about what took place. CT Post take here.

We had our meeting after gaining access to the school because an employee exited the building and we slipped in with about 20-25 members of the public.

We entered the normal meeting space and sat there peacefully until Sauda Baraka arrived. While we were sitting there the custodian shut off all the lights except the stage lights which were on a timer. Then he locked the bathrooms and claimed as the Head Custodian he did not have the keys. We were holding a peaceful meeting when three patrol cars showed up with six police officers including Lieutenant Ivanko who demanded that both Ben Walker and I step into the hallway to speak with him. All six officers swarmed the BOE Meeting at approximately 8:30pm. I explained we were elected BOE members, we showed him our BOE IDs, and gave him copies of the CT state statutes that make it clear that the "local school board" controls all public school buildings and grounds, not the Interim-Superintendent or a member of her staff. He directed Ben and me to step into the hall and I stated he could speak to me in front of everyone right where we were. He ordered me into the hall and I asked everyone to join us in the hallway and to videotape the entire segment.

Ben and I were speaking and he said I had an attitude. I said I am a legal member of the school board elected by over 10,000 Bridgeport voters who has an absolute right to be in a school building, yet you think I have an attitude. A young, white, bald cop said "who gives a piddly?" I responded the voters of Bridgeport do. This is exactly why so many people despise police officers. They are arrogant jerks.

As two Bridgeport parents and a member of the public stepped into the hall to record the exchange with Ben and myself and the police officers, Lieutenant/Sargent Ivanko ordered them back into the cafetorium, which is a violation of federal/state law. Any member of the public can tape police officers as long as they do not interfere in the work of the police. These parents were 8 to 10 ft away from Ben, myself, and officer Ivanko.

Tammy Boyle handed my phone to Sauda Baraka to continue recording and everyone went back into the cafetorium. Meanwhile Sauda is standing on one foot on a crutch trying to record the interaction with the police.

Michael Giannotti approached officer Vanko and exchanged words with him. We held our entire meeting and adjourned.

As I exited into the lobby the tall, white, bald police officer wanted to be a prick and asked me for my name, DOB, and address. I asked him what law I violated which required me to give him the information? He reiterated he wanted my name, address, and DOB. I held up my BOE ID Badge and he copied my name. I gave him my address and DOB. I gave him my address and he asked me if it was in Bridgeport. I explained I couldn't be an elected school board member if I didn't reside in Bridgeport. I asked him if he was a resident of Bridgeport and he appeared agitated and did not respond.

We then exited and took footage of three patrol cars in front of Geraldine Johnson.

I recorded myself stating we have murders, shootings, stabbings, rapes, drug dealing, etc. happening throughout Bridgeport and the best use of six police officers on the taxpayers' dime is to harass elected school board members at a peaceful meeting of the Board.

The members of the public who spoke were so complimentary of our showing courage and doing the work on behalf or 21,000 students. Fran Rabinowitz, Dennis Bradley, Joe Larcheveque, Annette Segarra-Negron and Raphael Fonseca were ripped apart for failing to fulfill their obligations under state law.

Channel 12 News found out the police were there and came back. The video guy got in, but Ivanko told the reporter she was "not allowed in the building" and escorted her out of the building.

This was just completely outrageous.