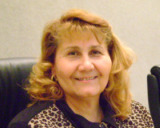 Is the queen of absentee ballots City Councilwoman Lydia Martinez at it again? Or is the absentee ballot activity on the East Side the result of some hotly contested races?

Town Clerk Alma Maya reports that her office has all it can handle meeting requests for absentee ballots. As of Friday afternoon more than 1000 requested absentee ballots had been mailed citywide for the September 27 Democratic primary. Of those ballots 376 have been returned which means there's a pretty good chance with 11 days left until the primary that party operatives supporting Mayor Bill Finch will reach their goal of approaching 1000 absentee ballots returned to the Town Clerk. Roughly 500 Democrats voted by absentee ballot in the mayoral primary of 2007 won by Bill Finch over Chris Caruso.
Martinez, a Finch supporter, represents the heavily Latino 137th District on the East Side where a disproportionate amount of absentee ballot requests have come in to the Town Clerk's Office. Lydia has amazing endurance to find "my peoples" who want to vote by absentee ballot. Lydia has about six ex husbands. Could they all be filling out ABs? She gives washboard ABs a whole new meaning.
The Town Clerk's office actually ran out of absentee ballots one day and has had to return to the printer several times to accommodate requests. The 137th voting district has two precincts, Luis Muñoz Marin School on Helen Street and The Bridge Academy on Kossuth Street. Aidee Nieves and David DeJesus, on the mayoral slate of Mary-Jane Foster, are opposing incumbents Martinez and Manny Ayala. The Foster camp sees Nieves and DeJesus as two strong candidates.
Alberto "Tito" Ayala, the town clerk candidate on Foster's slate, also comes from the East Side district. He is the ex husband of Democratic Registrar Santa Ayala. The district is also home to Tito's nephew State Rep. Andres Ayala, a popular figure there, who so far appears to be sitting on the sidelines in the primary. Tito and Andres have had their own political battles over there through the years. Studying East Side politics could cause a large psychiatric bill. They break up and get back together, break up and get back together. Smooch one day, curse the next.
Former City Councilwoman Maria Valle, who's supporting Foster, knows what it's like to face a Martinez absentee ballot operation.
In 2007 Finch won Marin School handily. The turnout there was among the lowest in the city at 15 percent. The overall citywide turnout for that primary was 25 percent.
Strap in for 11 days of madness leading up to primary day.