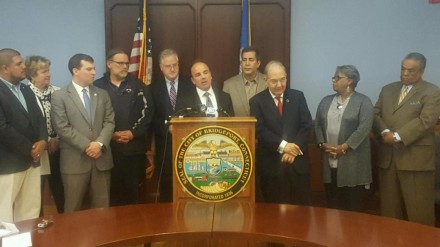 The lawyer representing State Senator Ed Gomes, denied ballot access for the August 9 Democratic primary based on a paperwork technicality, says he is examining two courses of action–first administratively and if necessary judicially–for Gomes to face party endorsed Dennis Bradley.

Bill Bloss, a lawyer with Bridgeport-based Koskoff, Koskoff and Bieder, has a history representing Ed Gomes in a key election law case that opened up Connecticut's primary system more than a decade ago. That case was a federal action. At issue here is paperwork that was not filed for a candidate receiving sufficient delegate support at the party convention to automatically qualify for the ballot.
East End District leader Ralph Ford, a Bradley supporter who chaired the May 23rd convention at Testo's Restaurant, says the paperwork that Gomes was required to submit signed by the convention chair or secretary was not included in his packet by the state party. A source for the Democratic State Central Committee asserts the certification form was included.
Bloss says he will first examine if state statute provides Connecticut Secretary of State Denise Merrill the power the cure the issue administratively. Failing that the likely option will be pursuing the issue in Connecticut Superior Court.
Meanwhile Senate President Martin Looney, a Gomes supporter, issued a statement on Thursday urging that Gomes' name be placed on the ballot.
"It was clear at the convention that Senator Ed Gomes had more than double the required support to surpass the 15% threshold to qualify for the ballot. The votes of the convention delegates should be honored and nothing should prohibit the people of Bridgeport and Stratford from having the ability to cast their votes for Ed in the Democratic Primary.

"Ed has always embodied the ideals of the Democratic Party and has dedicated his life to public service and fighting for the community. We are working with attorneys for the State Democratic Party and Senator Gomes to ensure his rightful place on the primary ballot."