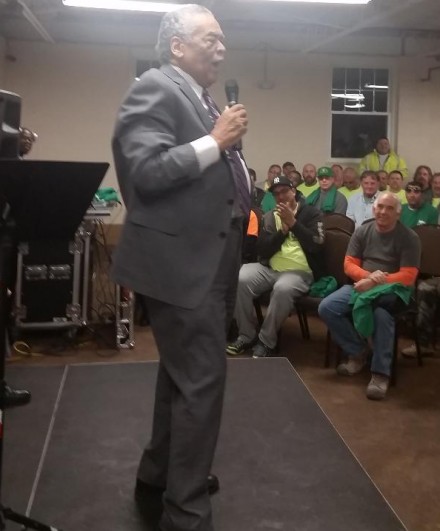 He didn't support Joe Ganim for his mayoral comeback and now State Senator Ed Gomes isn't supporting Ganim for governor. The governor's race is wide open in both major parties. Gomes, who just turned 82, is backing former state commissioner Jonathan Harris, a once peer in the State Senate. Who's Jonathan Harris? See here.


Ask Gomes about Ganim and he'll say "I don't have a problem with Joe." But Gomes is intensely loyal to pols who've been there for him, and also embrace his long-time credentials on behalf of organized labor. In 2011 and again in 2015 Gomes supported Mary-Jane Foster for mayor. He was not a fan of then Mayor Bill Finch.
Harris, former mayor of West Hartford, is seen as a sleeper in the governor's race. Other Dems, in addition to Ganim, include entrepreneur Ned Lamont, former Connecticut Secretary of the State Susan Bysiewicz and Hartford Mayor Luke Bronin. Harris, Bysiewicz and Bronin are participating in the state's public financing program while Lamont self funds. Ganim is precluded from the public financing program as a result of his 2003 conviction on public corruption so he's raising money through larger contribution amounts.
CT Post reporter Brian Lockhart has more on this:
Earlier this week state Sen. Ed Gomes and Mayor Joe Ganim shared a stage at a union rally supporting building a casino in Connecticut's largest city.

… When it comes to Ganim's political future, however, the Senator and Gomes part ways.

Gomes has instead endorsed his former Senate colleague, Jonathan Harris, for governor ahead of the Democrats' May convention. The Harris campaign released a statement from Gomes late Thursday.

"Jonathan is the proven progressive problem solver in this race, and he has earned my support," Gomes was quoted as saying. "Through his work on healthcare, education, economic development, and job creation, he has demonstrated his commitment and determination to making Connecticut a place where everyone, regardless of their race, religion, or gender, can succeed."
Full story here.