Testimony by one of the backers challenging the results of the September 10 primary asserted in court Thursday that 156 absentee ballots were recorded 18 days after the primary. Not true.
If Callie Heilmann, founder of Bridgeport Generation Now whose leadership supports State Senator Marilyn Moore for mayor, had reviewed (or maybe she did) the absentee ballot report she received from the Town Clerk's Office September 12 she would have noticed a coded error of September 28, instead of August 28.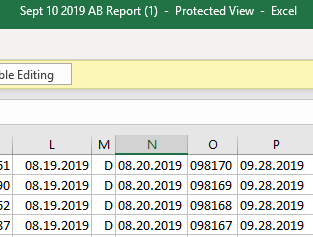 OIB, on an ongoing basis, receives the absentee ballot reports issued by the Town Clerk's Office. On September 10th (see above) OIB received this report that in the right column coded the ballots received on September 28 when they were actually received August 28. It was, as we call in journalism, a typographical error. Nothing sinister about it.
The attorney for the plaintiffs Jonathan Shapiro asserted in court. "It goes to the totality of our case. The 156 votes should not have been counted."
Did Shapiro examine the report in real time? Of course not. He became a hired gun well after the fact. It's all court spin.
Did Heilmann review the report that Deputy City Attorney John Bohannan asserts she received September 12?
Heilmann hides under "I reserve my first amendment rights" that her organization isn't affiliated with any candidate for mayor, but the facts assert otherwise: she contributed $1,000 to Moore's campaign and hosted a fundraiser for her at her house.
Why? She's worried about violating the organization's 501(c)(3) nonprofit status under the IRS code. (Oh, we created an affiliate organization to make us whole.)
Many others in Generation Now contributed to Moore as well. One of its leaders Gemeem Davis has taken a "leave of absence" to manage Moore's race. Moore was honored at the group's first annual fundraising event in May.
(Full disclosure: I was a guest speaker at the event and happy to do it.)
Why won't they just stand up and declare from the mountain tops: WE SUPPORT MARILYN MOORE! Nothing wrong with that, right? Gen Now has put itself in a pickle.
Because, if they do that, the IRS comes calling. Instead, they do a tap dance, just like everyone else in politics.
Welcome to the political party!
An organization can start out well-intentioned, but backslide from a myopic viewpoint. Generation Now has provided a positive community forum on several fronts from engaging issues, galvanizing new faces, holding elected officials accountable. Once you get in the political game–which the organization has done–unexpected things can happen like evidence presented in court turning against Moore.
Joe Ganim, as reported on OIB numerous times, hasn't been a boy scout in his life, but you know what–what's going on with Generation Now and Moore's campaign should raise red flags.
Campaigns are a reflection of what a mayoral administration can be.
Don't ever assume "true reformers" are reformers.
Not in this case, anyway.
And, by the way, none of this would be playing out in court if Moore's campaign had completed the simple task of securing a few hundred signatures to appear on the Working Families Party line in November. Oh gee, what do we do now? Run into court.