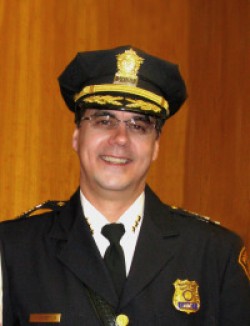 UPDATE: Mayor Joe Ganim has been trying to move out Joe Gaudett as police chief without buying out his five-year contract worth close to $700K. Ganim and Gaudett have reached a tentative agreement in which Gaudett resigns as chief but stays on as a contract worker overseeing a police division such as the Emergency Operations Center reporting to former Chief Wilbur Chapman, a senior adviser to Ganim for public safety working out of the mayor's office. The contract appointment would allow Gaudett to continue receiving his city pension. Chapman, himself, signed up for a six-month gig worth $64,000 to carry out mayoral directives on police matters.

"We've been in talks with Chief Gaudett for some time about his future and the restructuring of the police department," says Ganim's spokesman Av Harris. "We're very close to an agreement. Any agreement would need approval by the City Council."
Gaudett's agreement with the city could be referred to a council committee Tuesday night. If that happens the agreement could go before the full council for approval in March. Sources say the structured deal is for three years at roughly $125,000 per year.
In the last days of his administration Bill Finch reappointed Gaudett to a new five-year contract as chief rather than allowing Ganim to select his own police leader. A charter reform measure approved by voters more than 25 years ago allows for the chief to be appointed up to two five-year terms. The chief cannot serve more than 10 years.
Gaudett is well-liked in certain segments of the community but not loved by some rank and file officers, many of whom supported Ganim's comeback as mayor.
The current salary range of chief is $129,778 to $142,576. Buying out the entire contract is a big ticket so negotiations ensued with Gaudett if he was amenable to a lesser figure. But in lieu of a buyout another option has been negotiated as a result of Gaudett open to a regular pay day through another job within the police department. Gaudett's departure as chief frees up Ganim to select his own in an acting capacity.
One of the names at the top of the list for Ganim to appoint is Captain A.J. Perez whom the mayor trusts implicitly. In recent weeks Ganim has made Perez the face of the police department as head of a high-profile investigative unit featuring him at press conferences.