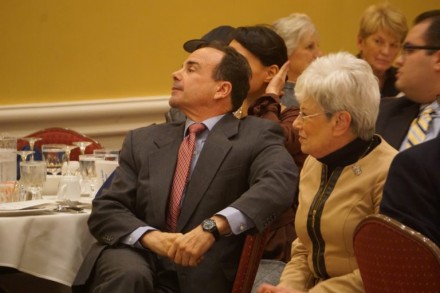 If Mayor Joe Ganim is serious about a statewide run for office in 2018, he lacks a serious campaign infrastructure for the task. Ganim's so-called campaign is eating the dust of just about every other candidate who has formed an exploratory or full-blown committee, the latest Trumbull First Selectman Tim Herbst who pledges to "take on the corrupt gold-dome culture." And it's a key reason media outlets and political operatives around the state–beyond Ganim's titillating chutzpah–aren't taking him seriously.

In the six weeks since his exploratory announcement, Ganim has done little to build the necessary infrastructure for a compelling fundraising operation and message outreach. While the modern version of campaigning includes the convenience of culling dollars via a web-based portal, Ganim has none. Raising money via a home computer or phone is the most effective outlet both in meeting financial goals and organizing record keeping.
Instead, Ganim is doing it the old-fashioned way through snail mail and dialing for dollars, asking for personal checks and relying heavily on Bridgeport Democratic Town Chair Mario Testa and close political operatives to grind out a show of support for a fundraiser later this month at the chairman's Madison Avenue restaurant. Mario is a formidable old-fashioned manual fundraiser but not schooled in modern techniques. It leaves lots of dollars on the table.
Ganim showed continued fundraising strength a few months ago, amassing nearly $200,000 for his 2019 mayoral reelection campaign. But that's a completely different animal than running for statewide office, especially since Ganim must likely run into court after the State Election Enforcement Commission advised him he's ineligible for a public campaign grant due to his 2003 felony conviction. Ganim argues constitutional issues support his case for public grant eligibility.
Ganim has no point person on the ground organizing his campaign.
He has no messaging platform to engage donors.
He has no consistent media platform to build credibility.
It's too soon for this stuff? No, it's getting late because every other campaign has a significant advantage in all these areas. Ganim doesn't command the kind of statewide contact profile and platform such as Lieutenant Governor Nancy Wyman that allows jumping into the arena later than most. Wyman has not yet announced her intentions.
For Ganim, most of this is lack of focus and lack of confidence in someone who can pull all this stuff together for him. Ganim does not trust easily. When engaged he's an exceptional retail politician.
So if Ganim's not serious, what's the point?
If he continues to vacillate he's better off vacating a statewide run and focus instead on governing the city.
But it's Joe, right?