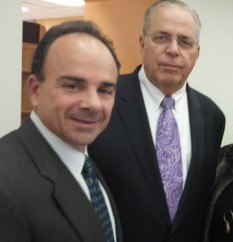 When Bill Finch was mayor, his relationship with the University of Bridgeport, one of the city's largest employers schooling more than 5,000 students, was non-existent. He boycotted university events. Joe Ganim, a UB alumnus, has reached out to the university, appointing UB President Neil Salonen to his transition team, hosting the university to showcase its research brainpower at a government event last week and speaking often about the need for a partnership with government to bring Downtown and the South End closer together. On April 19, 6 p.m. Ganim will appear at UB for his first official campus speaking event in the duPont Tower Room in the Arnold Bernhard & Humanities Center. The public is invited.

Ganim is scheduled to address:
• The partnership renaissance between UB and the City of Bridgeport
• The Gateway to UB and South End revitalization
• Downtown development
• The city's waterfront plan
• The new natural gas plant that will replace the red and white landmark coal burning tower
• Steelpointe Harbor redevelopment
"The University of Bridgeport is my alma mater," said Ganim in a statement. "Working closely and forging a strong partnership with this dynamic and innovative community is key in the City's revitalization."
Ganim will open the floor to questions and answers. Light snacks will be served.
"We welcome Mayor Ganim," said CPIA Dean Thomas Ward. "The entire campus community is excited about the rebirth of this partnership with the City which is long overdue."
Salonen will offer greetings to the Mayor. The event is organized by CPIA Mass Communications Professor Susan Katz, who produced and directed the award-winning traditional and digital media for the mayor during his 2016 campaign.