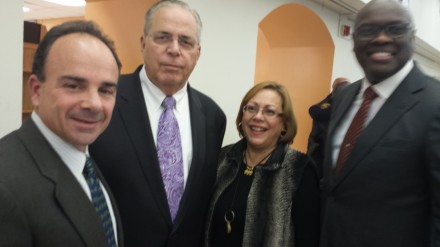 Mayor-elect Joe Ganim on Monday unveiled his 75-member transition team at the Bridgeport Public Library that includes a cross section from government, political, business community and professional services led by chairs University of Bridgeport President Neil Salonen, outgoing Town Clerk Alma Maya and State Rep. Charlie Stallworth. The transition team includes several committees scheduled to present a written report "which will summarize city issues within their charge and offer an array of policy recommendations" for a formal public presentation by the end of January.

"We have so much work to do in many areas of governance in Bridgeport and I am very proud of the team we have assembled to help set forth a new direction for our city," Ganim said in a statement. "The greatest work that is done for the public good is accomplished by a team, and no mayor can accomplish anything alone. This transition task force comprises some of the best minds in our city, and is a group of dedicated men and women from different backgrounds who have each worked hard to improve our quality of life. Bridgeport's transition team is both broad and diverse, and will be thorough in its work. We will also be inclusive, transparent and free from conflicts of interest–that is the tone I am setting for my administration."
Each transition team member is expected to fill out a questionnaire that requires recusal from "any matter or discussion which involves a cause, matter, or proceeding" involving a monetary or business interest.
Ganim says members of the public can still be placed on the transition task force by submitting a cover letter and/or resume to: Mayor-elect Joe Ganim Transition Task Force, 12 Hudson Street, Bridgeport CT 06606 (or email to resumes@ganimforbridgeport.com). Submissions from citizens should indicate area of employment interest or job. Resumes shall be reviewed by transition officials.
Transition team committees and members follow:
Transition Committees:
• Community and Neighborhood Services
o Review and summarize issues affecting and impacting neighborhoods, residents, and underserved communities; Recommend various policies and ideas to improve the community and to enhance quality of life.
o Members:
· Dr. Ralph Ford, Chair (East End community leader)
· Jose Ortiz, Co – Chair, Pres. Hispanic Health Group
· John Paul Esteves, Disability Resource Network
· Rev. Janene Hawkins, Walters Memorial Zion Church
· >Rep. Jack Hennessy, Chair, Bridgeport State Delegation
· Rosalie Christy, Trumbull Gardens activist/tutor
· Gil Hernandez, Jr, community leader
· Rev. Mary McBride-Lee, Councilmember 135th
· Milta Feliciano, City Councilmember
· Shaquana Shaw, P. T. Barnum tenant leader
· Elizabeth Torres, Dir. Bridgeport Neighborhood Trust
· Maria Valle, GBAPP and community activist
• Economic Development and Small Business
o Review and summarize current economic development projects and issues facing the small business sector and job creation; Recommend policies to improve the business climate, enhance ongoing projects, and to encourage new and additional job growth and development.
o Members:
· Rina Bakalar – Committee Co – Chair, consultant United Way
· Mickey Herbert – Committee Co-Chair, Herbert Consulting
· Stephanie Barnes, Pres-elect, Greater Ffld Board of Realtors
· Jim Carbone, The Plastics Factory
· Richard Carraro, West End Bus Assn
· Peter Carroll, Fairfield County Bus Trades
· John Cotter, Nutmeg Adjusters
· Randy Fescoe, PEP-Lacey Manufacturing
· Barbara Gonzalez, Beyond Homecare Staffing
· Brandon Hall, Forstone Capital
· Tyisha Toms, Esq., Co – Chair, Attorney
• Education and Youth
o Review and summarize issues facing youth and the public education system; Recommend how government can partner and assist to make improvements in education and youth programs.
o Members:
· Scott Hughes, Committee Chair, City Librarian
· Dr. John Petillo – Committee Co – Chair, Pres, Sacred Heart U
· Donna Andrade, Educator/Teacher
· Dennis Bradley, BOE member elect
· Dr. Paul Broadie, Pres. Housatonic CC
· Mary Cameron, community activist
· Lissette Colon. Education specialist
· Bob Hastead, City Councilman
· Terrance O'Connor, ED Sheehan Center
· Christina Miranda, In School Susp Officer
· Mary Pat Healy, Exec. Director – Bridgeport Child Advocacy Coalition
· Dan Shamas, Esq.
• Government Accountability and Transparency
o Review and summarize city government ethics policies, Freedom of Information laws and other open government practices; Recommend improvements to ensure accountability
and transparency.
o Members:
· Edward Adams – Committee Chair, retired FBI
· Lisa Parziale, Committee Co – Chair, former City Council President
· Charlie Coviello, activist/former Mayoral candidate
· Ray Ganim, Esq. Ganim & Associates
· Nick Khamarji, Jr., New Engalnd Insurance
· Raul Laffitte, Dir. of Transportation BOE
· Michael Luzzi, Esq. Dolan & Luzzi
· Eneida Martinez, Councilmember
· Rev. Willaim McCullough, Rusell Temple
· Tom Mulligan, Esq. McNamara & Kenny
· Pastor Courtney Williams, Refuge Temple Church
• Government Operations and Financial Policies
o Review and summarize government activities, management, human resources practices, organizational structure, and resource allocations; Recommend efficiencies, process improvements, cost-savings, and restructuring possibilities.
o Members:
· John Gomes – Committee Chair, small business owner
· Shante Hanks, Committee Co- Chair, aide Rep. Jim Himes
· Joseph Carbone, CEO Workplace Inc
· Charlie Carroll, Bridgeport Parks Director
· Christine Gonzalez, Partner, Blum Shapiro
· Jack Daley, Daley Construction
· Juan Hernandez, businessman & Justice of the Peace
· Timothy Hodges, VP Gov Relations, Peoples Bk
· Bruce Hubler, former VP Dun & Bradstreet
· Michelle Lyons, City Council Member
· Glenn Marshall, former state Labor Commissioner
· Valerie Sorrentino, former Pres, LIUNA Unit
• Public Safety and Emergency Services
o Review and summarize issues facing public safety and emergency related services; Recommend approach and policies that could prevent and reduce crime and enhance neighborhood safety.
o Members:
· Steve Nelson – Committee Chair, Sheriff-elect
· Wilbur Chapman – Committee Co-Chair, former Police Chief
· Lisa Anderson, Bgport BOE Spcl Ed
· Hector Diaz, former State Rep
· David Dobbs, VP Firefighters IAFF Local 834
· Jeff Kohut, community activist/consultant
· Rev. Martha Melvin, Deliverance Kingdom Church
· Chuck Paris, Pres. Bridgeport Police Unit# 1159
· Neil Guilford, Trumbull Gardens/ NCC
· Pablo Jimenez, P.J. Garden Exchange
· Rep. Ezequiel Santiago, State Representative
· Sheila Vego, Firefighter engineer
o Ex-Officio Transition Liaisons:
· Kenneth Flatto
· R. Christopher Meyer
· John Ricci
· Rowena White
Timeline and schedule for the work of the Bridgeport city transition task force:
· November 17 – 24, 2015: Various Committee organizational meetings.
· November 25, 2015 – January 8, 2016: Each Committee shall hold at least three additional meetings, including sessions open to the public to obtain public input on all issues before such Committees.
· January 11 – 30, 2016: Each Committee shall formulate a report for formal public presentation to the Mayor by February 1, 2016.