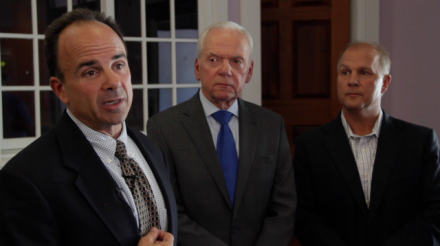 Joe Ganim's surreal comeback, arguably the only one of its kind in American mayoral politics, was lifted by the retired FBI agent Ed Adams who was part of the investigation team that topped JG1 in 2003. Adams' support of Ganim provided weight to a second-chance message. Ganim promised on the campaign trail he would create a public integrity unit. On Wednesday Ganim released a copy of a proposed ordinance calling for a three-member commission and Office Of Government Accountability that would be directed by Adams. The mayor would choose two commissioners, the other by the City Council. The three commissioners must be approved by the council.

"I promised an open, transparent and accountable city government when I ran for Mayor, and this ordinance begins to make that a reality," said Ganim in a statement. "This builds on the progress we have already made to open our books in city government. This office would be a place that gives ordinary citizens the ability to hold city government responsible for its performance and investigate itself if there is waste or abuse of public resources. We also hope to provide more public access to government data so Freedom of Information requests aren't delayed for months. If the city council enacts this ordinance, Bridgeport has the potential to become the most transparent and accountable municipal government in the state of Connecticut."
Ganim says the office would serve as a clearing house for complaints related to government performance, including response to constituent inquiries, waste, inefficiency and potential misconduct. The office would review complaints and make a determination as to whether the issue warrants further investigation or should be referred to another office in city government for action. The proposed office would also consolidate all Freedom of Information requests and "manage timely responses to those requests." The director of the office of Government Accountability would also submit reports to the three-member Government Accountability Commission.
The ordinance states "Where a possible violation of the City's Code of Ethics may have occurred, such matters, including the initial complaint and facts discovered during the initial investigation shall be turned over to the Ethics Commission." The Ethics Commission that was created through an executive order by Tom Bucci shortly after his election as mayor in November 1985 has largely been a toothless tiger taking little enforcement action in the past decade as a so-called watchdog commission. It's unclear if this move is the start to add more teeth into the role of the Ethics Commission.
Some Ganim skeptics argue that Adams was brought on board as little more than window dressing to pacify a campaign promise. Is it? It depends how long Adams remains in government, his activity in this role and if this Office of Government Accountability becomes an institutional presence.
The proposed ordinance will be reviewed by the City Council's Ordinance Committee. If approved by the council, the ordinance will take effect on July 1, 2016.
Full Text of the Proposed Ordinance:
2.125 – Commission and Office of Governmental Accountability

2.125.010 – Purpose of chapter.
A. The Commission and Office of Governmental Accountability are established to monitor and ensure that the public's interest in open, transparent, and accountable government is protected and advanced.

2.125.020 – Definitions.
For the purposes of this chapter:
"City Employee" means an employee whether in the classified or unclassified service of the City of Bridgeport including the Bridgeport Board of Education ("BOE") and any elected or appointed officials.

"Commission" means the city's Commission of Governmental Accountability.

"Director" means the Director of Governmental Accountability.

"FOIA" means the Connecticut Freedom of Information Act.

2.125.30 – Governmental Accountability Commission.
A. Establishment and Membership. There shall be a Governmental Accountability Commission that shall consist of three members, all of whom shall be resident electors of the city. Of the three members, no more than two may be members of the same political party and no member shall hold any salaried public Office of the City or BOE. One member of the Commission shall be appointed by the Bridgeport City Council. Two members of the Commission shall be appointed by the Mayor and approved by the City Council.

B. Terms. All appointments to the Commission shall be for a term of two (2) years. The initial appointments to the Commission shall be arranged such that a) the City Council appointee shall be appointed for a two year term, b) one of the two members appointed by the Mayor shall be appointed for a three year term, and c) one of the two members appointed by the Mayor shall be appointed for a one year term.

C. Powers and Duties. The Commission shall be responsible for reviewing as appropriate all issues, complaints, and requests for information received by, and all investigations conducted by, the Director of Governmental Accountability, as further defined in Section 2.125.040 – OFFICE OF GOVERNMENTAL ACCOUNTABILITY, and shall advise the Director on the handling of such matters. The Commission shall review and vote on all draft reports prepared by the Director for any investigations conducted as prescribed in Section 2.125.040 – OFFICE OF GOVERNMENTAL ACCOUNTABILITY.

D. Quorum and Chairperson. The Commission shall elect a chairperson who shall preside at meetings of the Commission. Two members of the Commission shall constitute a quorum. A majority vote of the full Commission of three members shall be required for action of the Commission.

2.125.040 — Office of Governmental Accountability.
A. The Office of Governmental Accountability. There shall be an Office of Governmental Accountability ("Office") that shall receive complaints and information concerning misconduct, criminal allegations, constituent concerns, personnel matters, and waste, inefficiency and process issues relative to City of Bridgeport ("City") governmental procedures and operations. This Office shall also receive and process all FOI requests.

B. Staff. The Office of Governmental Accountability shall be staffed by a Director of Governmental Accountability, who shall be appointed by the Mayor and shall serve at the pleasure of the Mayor. The Mayor may appoint city employees to assist the Director with the responsibilities of the Office as necessary and may direct any City employee to provide support to the Office. There shall also be an FOI Coordinator who shall report to Director.

C. Powers and Duties. The Director shall formulate and establish a process to receive complaints and information concerning misconduct, criminal allegations, constituent concerns, personnel matters, and waste, inefficiency and process issues, and shall initiate a preliminary review with respect to each such complaint or request for information. The Director may decline to open an investigation if he or she determines that the complaint or information lacks foundation or does not amount to a violation. The Director may also conduct investigations, reviews, or audits on his or her own initiative or in support of matters referred to the City's Commission on Ethics established pursuant to Bridgeport Code of Ordinances ("Ethics Commission").

Where a possible violation of the City's Code of Ethics may have occurred, such matters, including the initial complaint and facts discovered during the initial investigation shall be turned over to the Ethics Commission. In circumstances that warrant, the Director shall provide direction to persons regarding the appropriate forms and process for filing an Ethics Complaint. Should the Ethics Commission request assistance, the Director and the Office shall be made available to assist with its investigation as needed.

The Director shall have the authority to refer constituent issues to the Mayor's Office or other applicable department, personnel matters to Labor Relations or other department head, and all criminal allegations shall be assessed and referred to the state, or federal authorities or the Bridgeport Police Department Detective Bureau as appropriate.

D. Freedom of Information Requests. The Office of Government Accountability shall be responsible for overseeing City compliance with all Freedom of Information requests. Such requests shall be directly managed by the FOI Coordinator who shall be appointed by the Mayor, and the process shall be overseen by the Director. Should the Director or FOI Coordinator require legal advice, opinions or other assistance, the City Attorney's Office shall provide legal support. It shall be the role of the Director to report to the Commission on all FOI requests, including the date received and disposal of each.

E. Compliance. It shall be the duty of every official, department head, employee, agency, contractor, subcontractor and licensee of the City, and every applicant for certification of eligibility for a City contract or program, to cooperate with the Office of Governmental Accountability in any investigation or FOI request undertaken pursuant to this ordinance. Each department's premises, equipment, personnel, books, records and papers shall be made available as soon as practicable to the Director and his or her staff, except wherein forbidden by law or attorney-client confidentiality requirements. No person shall retaliate against, punish or penalize any other person for complaining to, cooperating with or assisting the Director in the performance of the Office.

F. Reporting. Upon completion of any investigation by the Office, the Director shall issue a formal report. The Director shall prepare a draft report to be submitted to the Commission in executive session subject to the requirements of the FOIA. The Commission may vote to amend the draft report directly or ask for further investigation by the Director. The draft report shall be made final by a vote of the Commission. Once the report has been made final, a copy of the report shall be sent to the Mayor and to each member of the Council, as well as be made publicly available.

The report issued by the Director shall include the following: a) a description of any complaints or other information received pertinent to the investigation, if applicable, b) a description of any inefficiencies or waste observed or discovered in the course of the investigation, c) recommendations for correction of any inefficiencies or waste described in the report, and e) other information the director may deem relevant to the investigation or resulting recommendations.

The Director shall also report to the Commission regarding all FOIA requests as previously prescribed.

G. City Contracts. Every City contract and every bid, proposal, application or solicitation for a City contract, and every application for certification of eligibility for a City contract or program shall contain a statement that the person has read, understands and will abide by all provisions of this ordinance.

2.125.50 – Effective Date.
A. The effective date of this ordinance shall be July 1, 2016