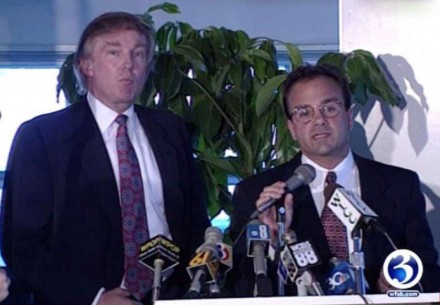 It's always good to have a relationship with a president but tricky if he repulses your voter base. That's the position Mayor Joe Ganim's in. He has a history with Donald Trump who toyed around with various city developments in the mid and late 1990s. After refusing to pay taxes on the former Jenkins Valve site that Trump owned he deeded the property over to the city and it became the home of Harbor Yard in 1998. Taxes were waived. For the most part Trump and Ganim had a good relationship. Ganim said some nice things about Trump in a CT Post article.

Ganim said he is not fearful of a Trump presidency. In April, he was spotted backstage when Trump held a rally in Bridgeport.

"I probably have more insight than … a lot of people do–anecdotes about his personality," the mayor said Thursday.

"Give him a chance to take a deep breath and, I hope, come out with reassurances that the extreme part of his campaign was left behind," Ganim said. "My sense is, you've got a good man there."
Full story here.
For four years I served as a Trump media consultant. He worked against a casino when Bridgeport was proposed at the host site for gaming expansion fearing it would cannibalize his Atlantic City operation. Trump was particularly fond of Pleasure Beach and the city's underutilized waterfront. Doesn't hurt to know a president who might take your calls, right? That's how Ganim looks at it. But his huggy remarks for Trump have bewildered some members of the black community.
"Joe forgot about the people who got him elected," says former State Senator Ernie Newton about the heavily African American vote that elevated Ganim to victory over incumbent Bill Finch in last year's Democratic primary on his way to a general election comeback victory. Newton says Trump's positions on immigration and race preyed upon the fears of low-information white voters. "Black and brown voters, the people who got Joe elected will see the clock turned back under Trump. He has a total disrespect for our president. Joe Ganim would never be mayor if he said some of the things Trump said."
Newton said it's possible anti-Trump rallies that have popped up around the country will be organized in Bridgeport.
If a rally is organized by African American city ministers and they ask Ganim to join the protest, it would a tricky balancing act for Ganim. Trump has vocalized mixed messages about the rallies, both condemning them as a media concoction but also praising the passion of protesters.
And that's what you get with Trump, a compliment here and attack there, lotsa mixed messages. How long is he capable of tempering his remarks both in the short- and long-term in a Washington that relies on patient deal-making? Trump knows how to cut a deal in a business environment. Government is a different animal. You campaign for show and govern for dough. You cannot be king as president. You must deal with Congress, promises made, things said on the campaign trail that aren't always realized quickly. Trump's in a fascinating spot because he was elected running against the political establishment, including Republican Party insiders.
It provides an opportunity for bipartisan results. If he can keep his tongue in check. How long will it be until frustration sets in? Words hurt.
Thousands of protesters feel the sting of Trump's campaign remarks. What he now says, however, as president-elect (and in the future as president) is far more important.