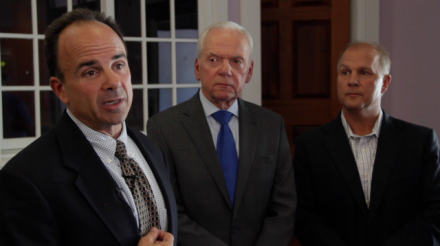 R. Christopher Meyer, who worked in the City Attorney's Office for 26 years, has been named by Mayor Joe Ganim the city's chief lawyer replacing Mark Anastasi who will remain in the office as an associate city attorney. Ganim had appointed Anastasi city attorney shortly after his election in 1991 when Anastasi was a young lawyer in the City Attorney's Office and he remained there through the Fabrizi and Finch administrations as a well-liked loyalist. Anastasi also enjoys classified job protection to remain in the office.

Meyer, who volunteered legal advice for Ganim's campaign, will oversee an in-house legal staff of about a dozen lawyers. He will be paid $124,100, the low end of the pay scale for the position, according to the recently updated salary range of executive appointed officials.
One of the items at the top of Meyer's list is examining the last-minute five-year contract extension Bill Finch authorized for Police Chief Joe Gaudett who's not a popular figure within the Police Department, especially among union members who supported Ganim's election.
Finch, leaving office, said the contract extension did not require City Council approval.
"Finch also thought he was gonna be the candidate of the Job Creation Party," cracked Meyer regarding the Finch campaign bungling the state paperwork to place his name on the general election ballot after losing to Ganim in the Democratic primary.
Meyer says the contract requires council approval, adding "whether or not it's a valid appointment is a different question," asserting without specificity that Gaudett may not possess the legal criteria to remain on the job.. "We'll be looking at it."
Meyer also said he will also handle a case load as city attorney instead of just directing legal traffic, assigning cases and issuing opinions.
Anastasi, city attorney in name, was actually the "mayor's attorney," loyal to whomever was chief executive. During the Finch years it was difficult to secure any information from City Hall without issuing a freedom of information request routed through the City Attorney's office, even mundane information, where it often languished. Anastasi legal decisions were sometimes crafted to the whim of the mayors he served and he'd occasionally freelance opinions even when City Charter language was clear, for instance when the Park Commission last year rejected a Finch-backed agreement between the city and United Illuminating to install solar panels on the old municipal dump in Seaside Park, Anastasi announced the Park Commission decision was "advisory." Not exactly. Finch pressed for another vote and it passed.
It was Anastasi who crafted a legal opinion that state law trumps a City Charter provision prohibiting city employees from serving on the City Council to avoid conflicts of interest. Rather than enforcing the City Charter and placing the burden on a plaintiff to cite state law in court, Anastasi decided it de facto protecting politically connected council members' paychecks. It has brought into question checks and balances in government between the executive and legislative branches of government.
Meyer says he will also take a look at Anastasi's legal opinion and the legality of city employees serving on the council in light of Ganim stating on the campaign trail that conflicts on the City Council must end. Currently only three of 20 council members receive city paychecks.
Anastasi, well liked among city employees, has classified job protection to remain in the City Attorney's Office. Aside from that Meyer says, "while we may not agree on everything, he is an excellent attorney with a wealth of historical knowledge and am very happy to have him on my staff."
John Bohannon, a veteran lawyer who has done work on behalf of the city for years, has been named deputy city attorney replacing Art Laske who received a termination notice upon Ganim taking office.
CT Post reporter Brian Lockhart shares related story here