Ganim fundraising page summary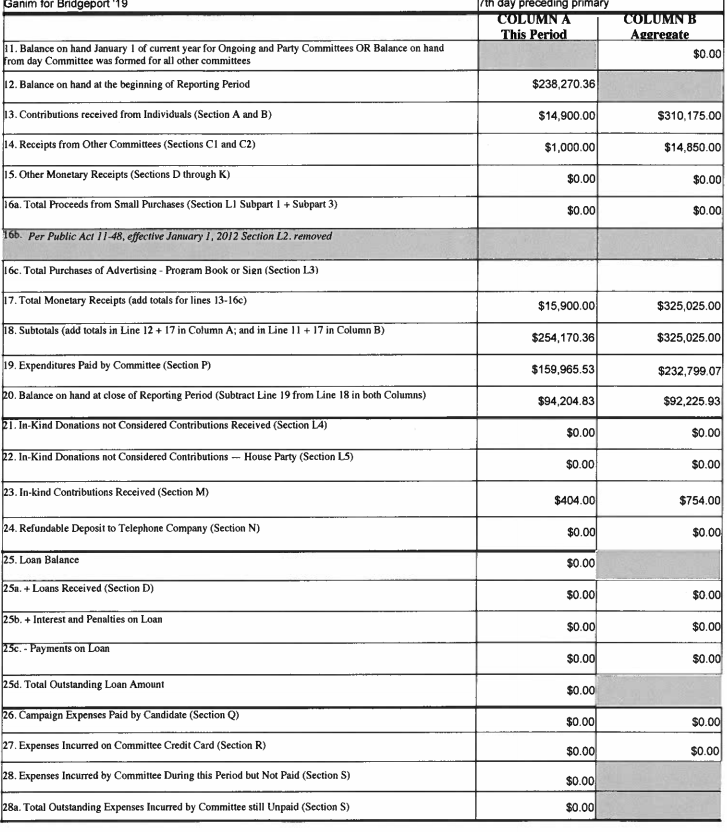 Mayor Joe Ganim's reelection campaign raised roughly $16,000 the past two months elevating his total war chest to $325,000 in his bid for another four-year term challenged by State Senator Marilyn Moore in the September 10th Democratic primary. Moore's camp, according to a spokesman, raised for the same period $28,585 bringing her total amount to roughly $127,000.
The latest finance reports, required by state law, cover the months of July and August. See ganimfinalreport2.
Ganim, according to the finance report filed with the Town Clerk's Office on Tuesday, had nearly $100K on hand to dump in the final days.
Moore Summary page
See moorefinancereport.
For Moore's fundraising effort it's all about quality over quantity. If she pulls off an upset win on primary day she will do so with the smallest campaign bank account in the modern history of the city. On the plus side Moore brings a State Senate base to the table to counter Ganim's fundraising, power of incumbency and retail skills.
Moore had $20,000 on hand at the close of the finance period.
Both campaign camps are pushing hard in the final week.
Most political operatives see a tight race with Moore running strong among her senate constituency while Ganim excels in the areas she is less known particularly in key Hispanic precincts.
A deciding area could be absentee ballots where Ganim holds a strong edge by virtue of his institutional party support. About 2,000 Democratic electors have requested absentee ballots. Roughly two thirds of those are expected to return to the Town Clerk's Office that processes the ballots.
If Moore does not win the party primary, it's just round one. She has established a ballot spot in November.