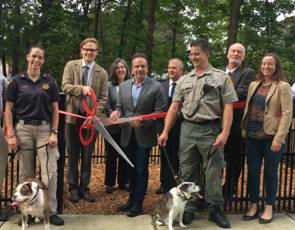 News release from mayor's office:
Mayor Ganim joined City of Bridgeport leaders today to cut the ribbon on a Downtown dog park located at Wheeler Park, behind City Hall at 45 Lyon Terrace. The Wheeler Dog Park will be a pet-friendly amenity for dog owners who live in proximity to City Hall, as well as people who will be moving into the new residential units Downtown.
"Placing a dog park Downtown is very exciting for our residents and their pets," said Mayor Ganim. "We are the Park City so it is only fair to have a haven for our 4-legged friends. I believe this is a great investment for the City as we continue to grow into a pet-friendly municipality. Residents will now have a place in the City set apart for their dogs to roam freely and play."

After seeing how dog parks are a popular amenity in many cities, the Office of Planning and Economic Development performed a survey in the Fall of 2017 for dog owners who live in the surrounding area. Survey responses were overwhelmingly positive, with most respondents saying they would use a dog park several times a week or daily. The project is funded through City capital and Downtown public improvement funds.

The park is an 800 square yard gated area, allowing dogs to run freely on its soft wood fiber ground cover. The park has an entrance pen to allow owners to safely release their dog's leash before letting them into the park. Mutt Mitt clean-up bags are provided, as well as a receptacle. The park is well shaded and has benches for owners to relax while their dogs play.