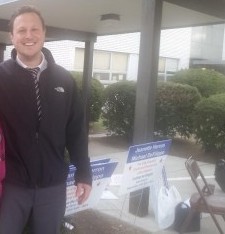 City zoners raised City Councilman Michael DeFilippo's spirits in July when they halved the distance between liquor stores and schools, daycare facilities, hospitals and churches to 750 feet. The decision faced fierce opposition from liquor store owners and community leaders. Superior Court Judge Dale Radcliffe denied a temporary restraining order on the decision, but left the door open for appeals, as reported by CT Post scribe Brian Lockhart.

The change in the zoning regulations benefits City Councilman Michael DeFilippo, who with the support of Democratic Town Chairman Mario Testa, sought to open a liquor store on Brooklawn Avenue. DeFilippo's initial application to open the store had been rejected because it fell within the 1,500-foot rule.

A judge has refused an immediate appeal of the city's new liquor store zoning regulation that benefits a recently elected city councilman.

… "I find that as to the success on the merits that the appeal is credible, that the appeal is certainly far from frivolous," Radcliffe said.
Full story here.