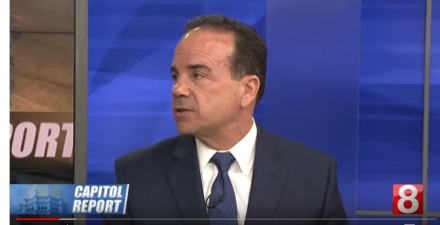 Mayor Joe Ganim's exploratory committee for governor will report more than $100,000 raised for the quarter ending September 30, a significant jump from the roughly $36,000 collected in his first quarter of fundraising for statewide office.

Most gubernatorial campaigns measure $100,000 raised as a successful quarter with the overall goal of raising $250,000 in donations of $100 and less to secure approval for more than $1 million in public primary money from the state's Citizens Election Program administered by the State Elections Enforcement Commission. The public grant for the general election is more than $6 million.
Ganim is raising money on the leap of faith he qualifies for public dough even though the SEEC barred him from participation as a result of his 2003 public corruption conviction. Ganim is challenging this in federal court on constitutional grounds.
"All candidates should have the same opportunities to campaign so that the public may cast their vote in a fair election process," Ganim writes on his campaign Facebook page.
If Ganim is rebuffed by a court and presses on with his gubernatorial campaign through a candidate committee he'll raise it the old-fashioned way that allows a $3,500 personal maximum contribution. See contribution limits and restrictions here.
Ganim showed considerable fundraising strength early this year banking nearly $200,000 for his 2019 mayoral reelection on one night backed by many personal contributions of $1,000 allowed in a municipal cycle. There's no public financing on a local level. He then segued to his statewide ambition which is a different animal raising small dollar amounts to qualify for public financing.
With state finances bleeding badly Republican legislative leadership wants to raid the public money fund that could be upwards of $40 million in 2018 to help balance the budget. The Republican-backed budget that was vetoed recently by Governor Dan Malloy eschewed public financing.
As an exploratory committee Ganim's statewide campaign can receive upwards of a $375 personal contribution. The larger dollar donations help finance the building of a campaign infrastructure. The donations of $100 and less are the ones counted toward a public financing grant.
A court hearing is scheduled next month regarding Ganim's SEEC legal challenge.
All campaigns for state office must file finance reports with the SEEC next week. The reports can be viewed on the SEEC website.