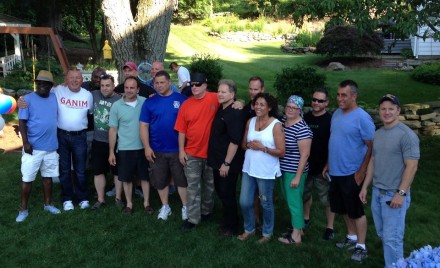 Retired and active city police officers, contractors, lawyers and family members are among the major donors to Joe Ganim's comeback bid for mayor, according to his monstrous 700-page campaign finance report filing at the Town Clerk's Office for the period ending June 30 in which he raised more than $200k in a two-month stretch.

Ganim received more than 600 donations with over 50 percent of the contributions from Bridgeport residents, according to the campaign.
The maximum personal contribution allowed by state law is $1,000. Those donors include land use attorney Ray Rizio, Police Captain A.J. Perez, John Chaves of the Bridgeport-based Chaves Bakery, Bill Onkey, owner of The Pawnbroker Downtown, developer Phil Digennaro, Val Sorrentino, retired Deputy Director of Human Services, retired Sikorsky Memorial Airport Manager John Ricci, attorney Dennis Bradley, a candidate for Board of Education, retired FBI agent, now private investigator, Ed Adams, one of the lead agents in the federal investigation that forced Ganim from office in 2003, who's supporting Ganim's quest for a second chance.
The report includes donations from many retired and active city police officers. The Bridgeport Police Union endorsed Ganim last week. Ganim also had a police officer-backed pig roast fundraiser Saturday in Trumbull that took place after the filing deadline for the quarter.
Ganim's report is hernia-risk thick because the campaign opted to list one donation entry per page rather than using the traditional State Elections Enforcement Commission form that has three entries per page. If you want a complete copy of this tome from the Town Clerk's Office at 50 cents per page the cost is $367.50.
Other donors of various amounts include the city's education transportation chief Raul Laffitte, attorney Sylvester Salcedo, East Side Democratic Town Committee members Maria Valle and Gil Hernandez, school board candidates Maria Pereira and Ben Walker, City Librarian Scott Hughes, police commissioner Tom Lyons, former fire commissioner Stuart Rosenberg, retired city education chief Dan Shamas who also served as Ganim's chief of staff, caterer and restaurant owner John Vazzano, East End District Leader Ralph Ford, Fairfield steak house owner Michael Musto, brother of former State Senator Anthony Musto, city staff attorney Russel Liskov.
Ganim's report shows the campaign had $167,307 on hand at the close of the quarter June 30.
The majority of campaign spending was for campaign headquarters, food and beverage for fundraisers, campaign literature and t-shirts and staff.
Mayor Bill Finch's campaign report shows a total of $515,000 raised at the June 30 deadline with a balance of $388,871. Mary-Jane Foster, who entered the campaign season late has raised $70,075 with $43,512 on hand as of June 30.