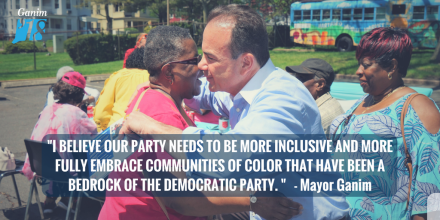 Mayor Joe Ganim, leveraging a wedge issue just days from the Democratic state convention, issued a statement on Wednesday echoing Connecticut NAACP President Scot Esdaile's criticism of the ticket makeup. Ganim is trying to position himself a gubernatorial alternative to Ned Lamont who's heading for the party endorsement this weekend with Susan Bysiewicz as his running mate. Meanwhile Eva Bermudez Zimmerman whom Lamont had considered as Connecticut Democrats' first Hispanic statewide nominee as his running mate before picking Bysiewicz, announced Wednesday night she will seek the nomination for lieutenant governor Saturday, setting up a potentially chaotic floor fight.

Ganim statement:
Bridgeport Mayor and Democratic candidate for governor Joe Ganim today said he agreed with Connecticut NAACP President Scot Esdaile's criticism of the Democratic Convention process in a story in today's Hartford Courant and called state Democratic Party leaders dismissal of those claims "tone-deaf and very disappointing."

"I've been talking for months about the lack of inclusion by party leadership and the need for greater diversity in this convention process. I believe our party needs to be more inclusive and more fully embrace communities of color that have been a bedrock of the Democratic Party," said Ganim. "We need a ticket at the highest levels that reflects the rich diversity of our state. Throughout the delegate selection process, I have been troubled by the lack of outreach to communities of color. The critical Rules Committee, which has set the rules for this convention, has few members of color. We can and must do better."

"Instead of dismissing the concerns of the state NAACP President, black elected officials and community leaders, state Democratic party leaders should seriously listen and address their concerns," said Ganim.
More on this from Brian Lockhart, CT Post:
Another black elected official–state Senator Marilyn Moore of Bridgeport–said Wednesday that Lamont had asked her earlier this year if she was interested in being his running mate, and she declined. A source with the Lamont campaign confirmed Moore, who is a sometime critic of Ganim's, was considered.

Moore said she was not disappointed with Lamont's choice of Bysiewicz.

"I'm disappointed that he didn't have a prior conversation with people who he should have acknowledged before (that announcement)," Moore said, like Winfield and Eva Bermudez Zimmerman of Newtown.

But Moore also saw the practicality of Lamont's alliance with Bysiewicz: "He wants to win. By aligning himself and taking Susan out of the governor's race it increases his opportunity. And nobody gets in a race to lose. Everybody gets in to win."

As to whether Ganim's criticism of Lamont and Bysiewicz will translate to minority votes, Moore said, "Joe's a popular guy among people of color because he goes into the communities where they are. But being popular and people supporting you for governor, that's two different things."
Full story here.