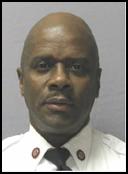 Ahead of appointing a replacement for the retiring Fire Chief Brian Rooney, Mayor Joe Ganim on Friday named Henry Polite fire marshal.

From city Communications Director Av Harris:
Mayor Joe Ganim announced today that he has appointed veteran fire inspector Henry Polite as Bridgeport's next Fire Marshal. Polite is a 28-year veteran of the Bridgeport Fire Department and has served as a Senior Inspector in the Fire Marshal's division since 2010. As Fire Marshal he will oversee a 21-person division responsible for fire safety inspections and fire investigations in the city of Bridgeport. He is the second African American to serve as Fire Marshal in Bridgeport. Polite becomes Fire Marshal following the retirement last month of longtime Bridgeport Fire Marshal William Cosgrove.

"We are grateful for Bill Cosgrove's many years of service and we are also very proud to have veteran fire inspector Henry Polite take over as Fire Marshal," said Mayor Ganim. "As Marshal, Henry will oversee critical fire safety inspections and investigate the causes of fires. Henry has a keen eye gained over decades of experience and reflects the diversity in leadership we will have going forward."

Polite previously served as a firefighter and Lieutenant in the East End of Bridgeport on truck and ladder six. He also later served as a pumper-engineer, and fire inspector starting in 2000.