A couple of thirty-somethings are going at it to fill the seat of retiring State Senator Ed Gomes in Connecticut's 23rd District where Gomes hopes he's replaced by his former administrative aide Aaron Turner and Mayor Joe Ganim, a candidate for governor, urges a vote for candidates on Line B, his line, except for party-endorsed Dennis Bradley on the top line for the August 14 primary. Turner appears two slots down from Ganim.


Primary contests are an exercise in educating voters, in this case informing Democratic electors to cherrypick candidates according to their various alliances. While Gomes is supporting party-endorsed Ned Lamont for governor, his political protege is more nuanced about Ganim's underdog face-off with Lamont in a district Ganim is expected to perform strongest potentially benefiting Turner's candidacy. Some of this depends on the effort of operatives reminding voters in front of polling locations about ballot spots, for instance a palm card selectively filled in or a shout out "Vote Line B, except for Bradley Line A" or in Turner's case operatives just pushing his name on Line B. In campaign tactical parlance this is called bullet voting.
Bradley, 34, a member of the Board of Education, is a seasoned campaigner having waged two state legislative races and a successful citywide campaign for the school board in 2015 running on Ganim's mayoral line. Two years ago he lost a primary to Gomes. This time around most of the party organization is support Bradley. Turner, 31, has stitched together a band of reformers, Gomes loyalists and operatives from the Connecticut Working Families Party. One area of hot absentee ballot action is the Upper East Side that covers the Hooker and JFK voting precincts. Nearly 400 requests for absentee ballots have been mailed by the Town Clerk's Office to Democratic electors in those combined precincts. One of Turner's key operatives there is school board member Maria Pereira.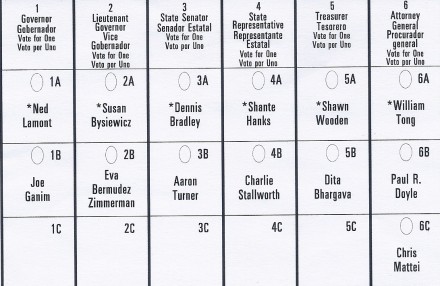 Ganim operatives carried all nine seats in March's Upper East Side Democratic Town Committee primary.
Connecticut's 23rd Senate District covers roughly two thirds of Bridgeport and a portion of western Stratford. It has historic underpinnings dating to 1980 when a determined funeral home director Margaret Morton, a transformational figure in city politics, wrangled the seat from incumbent Sal DePiano in a tight primary, becoming the first African American woman elected to the Connecticut State Senate. In succession the seat has been served by Morton, Alvin Penn, Ernie Newton, Ed Gomes, Andres Ayala and Gomes, once again.
This race will likely be edgy in the final week. In April, Turner filed an SEEC complaint against Bradley accused of an inappropriate financial overture to a Stratford mayoral candidate, something Gomes cites in the video above. Bradley denies the charges.
Bradley and Turner have received public funds under Connecticut's Citizens Election Program that infuses $84,450 in a primary for qualifying senate candidates in a party dominant district. They were required to raise $15,000 in donations of $250 or less to trigger the grant, so in total they will spend $100,000 each from their candidate committees.