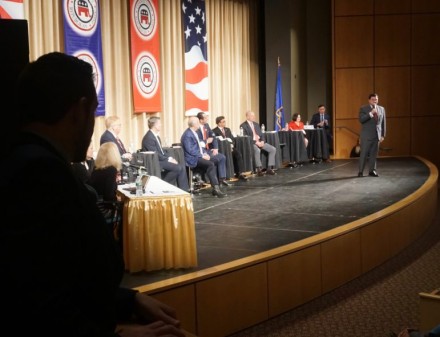 What happened to Ronald Reagan's 11th commandment? Though shall not speak ill of any fellow Republican has gone right in the crapper. This is one crazy guber cycle.

From Mark Pazniokas, CT Mirror:
Eleven candidates were invited, nine accepted and two bickered to the point that another proclaimed the night "an embarrassment." And so it went Wednesday in the second of the Connecticut Republican Party's five monthly showcases of the politicians vying to become the GOP nominee for governor in 2018.

With no practical way to thin the field, the Republicans are facing a long and bumpy road to their nominating convention in May at the Foxwoods Resort Casino, whose tribal owners are engaged in a multi-million-dollar lobbying battle at the state legislature over MGM Resorts International's proposal to build a gambling resort in Bridgeport.

… The candidates sat on stools arrayed across the stage of RHAM High School: Danbury Mayor Mark Boughton, businessman Steve Obsitnik, former U.S. Comptroller General Dave Walker, Lumaj, state Rep. Prasad Srinivasan, Shelton Mayor Mark Lauretti, former Trumbull First Selectman Tim Herbst, state Sen. Toni Boucher and Mike Handler, a top city finance official in Stamford.
Full story here.