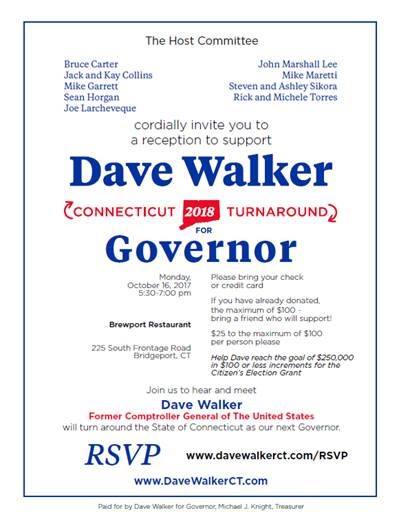 Many Bridgeport angles accompany the 2018 race for governor including candidates Mayor Joe Ganim and David Walker, the former U.S. Comptroller General who lives in Black Rock. (No suburbanites, Black Rock is a Bridgeport neighborhood, not Fairfield.) Shelton mega developer Bob Scinto is backing Walker over Shelton Mayor Mark Lauretti, also a GOP gubernatorial candidate, citing Walker's "experience and ethics."

Scinto issued a call to action on his Facebook page in support of Walker's upcoming Monday night fundraiser at Brewport.
CT has gone from a top 5 state to a bottom 5 state and we have to do something about it because it is our livelihoods. I am supporting Dave Walker for Governor because of his experience and his ethics. Please click onto his website, www.DaveWalkerCT.com, and listen to his interviews for yourself.

I'd love for you to come to see for yourself by attending this fundraiser for Dave at the Brewport Restaurant located at the Rt 8/95 intersection this coming Monday, October 16 at 5:30. Respond by clicking here: www.davewalkerct.com/rsvp
In 2011, Scinto was sentenced to six months in prison for making false statements to FBI agents regarding its federal probe of Lauretti who was not charged. Scinto has made a major comeback resuming his focus on Shelton development and numerous philanthropic efforts including Bridgeport nonprofits and arts community.