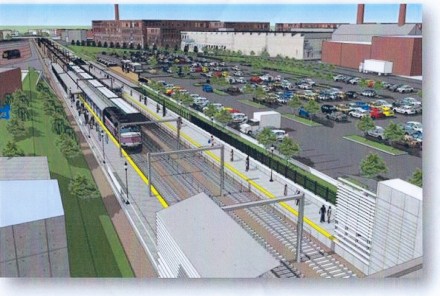 Pushed by then-Mayor Bill Finch and then-State Senator Andres Ayala, Governor Dan Malloy announced plans for an East Side train station a few months before his 2014 reelection. The initial price tag shot up. Now, it appears, funding has derailed.

CT Post reporter Brian Lockhart has more:
The Barnum Station had, in fact, been pursued by then-Mayor Bill Finch's administration and local business leaders as an economic driver to lure new development and tenants to the troubled East Side.

During a DOT-hosted public hearing last year on the East Side, state officials sought to lower expectations about when the station would actually be constructed and open for business. They noted the design was only 15 percent complete and the operational date moved to 2021–depending on the availability of funding.

The price tag, which ballooned over the years from $48 million to $300 million in part because of demands to accommodate not just Metro North trains but Amtrak's high speed ones, is challenging given Connecticut's and Bridgeport's budget problems.
Full story here.