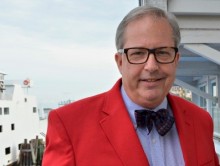 From the Barnum Festival:
Fred Hall, vice president and general manager of the Bridgeport & Port Jefferson Steamboat Company will be the 67th Ringmaster of the Barnum Festival. The P.T. Barnum Foundation Trustees and the Barnum Festival Board of Directors made the announcement at an event held at the Aquarion Water Company headquarters in Downtown Bridgeport Thursday evening.

"I am thrilled to lead the 67th edition of the Barnum Festival and continue the great tradition of my predecessor Ringmasters in showcasing Bridgeport and the region," said Hall, a 32-year veteran of the Steamboat Company. "P.T. Barnum founded our company, and I am deeply aware of his roots both here in Bridgeport and across Long Island Sound in Port Jefferson. I look forward to bringing our friends in Long Island to Bridgeport to share in the exciting roster of events the Festival produces that celebrate the City and the region's diverse assets."

Hall succeeds Paul Timpanelli, the President and CEO of the Bridgeport Regional Business Council,  as the Festival's leader.

Hall first joined the Bridgeport & Port Jefferson Steamboat Company in 1976 as a part-time employee while holding positions on both the agency and client sides in advertising, marketing and public relations. He joined the organization full-time in 1982, first managing the Bridgeport terminal operation before being named Assistant General Manager, then was named General Manager in 1984 and Vice President in 1985.

Barnum Festival Board President Michael E. Niedermeier said Hall, "was a natural fit to take on the role of Ringmaster with his company's ties to the legacy of P.T. Barnum. Fred brings a unique perspective, and a great deal of energy and enthusiasm to the task of celebrating Barnum's outsized personality. His long standing in the business community here and in Long Island will help forge new relationships that will enable us to continue to grow the Festival as a economic driver for the city of Bridgeport and the region."

"I look forward to working with Fred and all our volunteers to make the 2015 Festival even more exciting and fun for people of all ages," said Festival Executive Director Elaine K. Ficarra. "Fred has a fresh perspective and some great ideas that will generate excitement. P.T. Barnum would be proud!"

During his tenure as vice president and general manager, Hall has helped transform a single ferry operation between Bridgeport to Port Jefferson, NY to a year-round, three vessel transportation service worthy of the name 'marine highway.' Today, nearly 440,000 vehicles a year use the cross-sound ferry service. He has served as a board member of the Barnum Festival, and a chairperson of the Barnum Sails the Sound event, and has served as a sponsor to many causes both here in Bridgeport and in Port Jefferson.